Item details
Model
WITCH's DARK MAGIC SPELL BOOK ANIMATED PROP
Style
Animated, Lights, Sounds, Spooky Voice
Exact Style
Life Size, Book of Shadows, Grimoire, Spell Book
Power
Battery Operated (3-''AA'' - NOT Included)
Internat'l Worldwide Shipping:
YES!!! (Inquire for Rates)
Occasion
Halloween, Theatrical Productions, Haunted House
Type
Animated Prop,Display,Decoration,Costume Accessory
***YouTube DEMO***
***See Description***
***Each shipped SEPARATELY***
*Cannot be combined for discounted shipping*
model
WITCH's DARK MAGIC SPELL BOOK ANIMATED PROP
Size (Open)
11-in(27.5cm)x16.75-in(41.88cm)x2.5-in(6.25cm)
Size (Closed)
11-in(27.5cm)x8.75-in(21.88cm)x2.5-in(6.25cm)
*FREE SHIPPING FOR US MAINLAND
Alaska, Hawaii, Puerto Rico- Please Inquire!!!
Internat'l Worldwide Shipping
YES!!! (Inquire for Rates)
This item has been added to your cart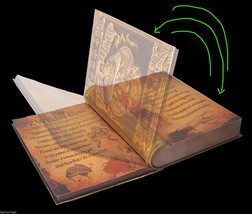 Witch Grimoire DARK MAGIC BOOK ANIMATED PROP Haunted House Halloween Decoration
added to cart.
3 available in stock
View Cart
or
continue shopping
.

Please wait while we finish adding this item to your cart.
Add to cart
3 in stock
Ships within 2 days. Estimated delivery: Thursday, November 30th
Returns/refunds accepted
Do you have any questions for the seller?
More about this item
Gothic Witch Grimoire Talking DARK MAGIC SPELL BOOK ANIMATED PROP Light Sound Motion Spooky Haunted House Horror Display Creepy Magical Halloween Building Decoration Cosplay Vampire Wizard Sorcerer Costume Accessory DARK MAGIC BOOK ANIMATED PROP Gothic Horror Halloween Decoration You'll be sure to cast a spell with this Book of Dark Magic on your table! Measuring 11-inch (27.5cm) x 8.75-inch (21.88cm) x 2.5-inch (6.25cm) (CLOSED) and 11-inch (27.5cm) x 16.75-inch (41.88cm) x 2.5-inch (6.25cm) (OPEN), this mystical book of shadows is battery-operated, and has a motion and sound sensor which will slowly open the book and illuminate the dark incantations from within, when activated. A witchy voice says one of three sayings, with each activation of the sensor: -''Double, double, toil and trouble, fire burn and cauldron bubble!'' -''Round about the cauldron go, in the poisoned entrails throw! Sweltered venom, sleeping got, boil though first in the charmed pot! Ah-ha-ha-ha-ha-ha-ha!'' -''Ah, I see my next ingredient has arrived! With you, my spell no longer deprived! Just a morsel I will take, in the cauldron boil and bake, your youth and flesh, the only price - to ensure me of eternal life! Ah-hah-ha-ha-ha-ha!'' -''Ha-ha-ha-ha-ha-ha-hah! Another foolish child dares to trespass on this wicked place? Here now a spell to remove that smile from your pretty face! Hoggles and haggerdash, and eyes of a crow - all powers are mine now, and all that you know! Ha-ha-ha!'' Then the book slowly closes and lays silent and still until the next sensor activation. The book can be opened manually without damaging the motor mechanism. Requires 3 AA Batteries, not included. MPN: HH-MR-123072 UPC: 841493003471 AMAZING - CLICK Below to See YouTube Demo Creepy Animated Animatronic DARK MAGIC BOOK ANIMATED TALKING SPELL BOOK WITCH GRIMOIRE Halloween Haunted House Horror Prop Decoration DEMO ------------------------------------------------- ***YES- This item ships Worldwide!!!*** *Note: This item cannot be shipped to P.O. Box, so please provide a physical address. ***FREE SHIPPING for Mainland USA only. Alaska, Hawaii and Puerto Rico, please inquire for rates!*** --------------------------------------------------
Listing details
Shipping discount
Seller pays shipping for this item.
Posted for sale
More than a week ago