Hello, Bonanzlers! We hope you had a Happy Halloween. Here at Bonanza HQ, we're taking a hint from the candy displays at our local grocery store and moving from Spooky Season to the Holiday Season. Don't believe us? Check out this first-hand account* of our office uniforms: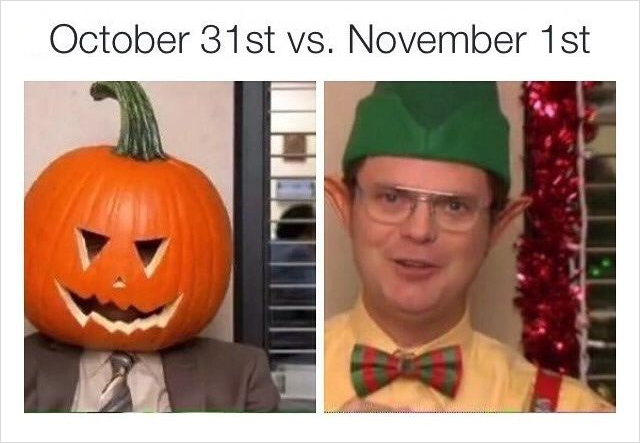 Image courtesy of VisualDNA
Okay, you're right: this is actually a meme and not a real Bonanza employee. Nonetheless, the holiday spirit is alive and thriving over here. With that in mind, we wanted to get the ball rolling and talk about something that's sure to be on the minds of sellers this holiday season: what products are going to sell? 
Trending products (according to Google)
Alas, we can't predict the future – but we can use a tool that is the internet's equivalent of a crystal ball: Google Trends. This tool lets you search for any keyword or search term and see its popularity since 2004. This can be super helpful when researching things like the seasonality and popularity of a specific item. Here are some of today's top trending products.
Beard oil 

Product image courtesy of creationhub
Seasonality: Over the past few years, there's been a seasonal spike around holidays, as beard oil makes a great stocking stuffer or holiday gift.
Popularity: Over the past decade, men are spending more time than ever before on grooming. The selection of men's grooming products has expanded greatly over the years, as evidenced by the rise of men's grooming subscription boxes (like Birchbox Man). This explains the increase in popularity of beard grooming products, especially as beards have become more fashionable (and acceptable in the workplace). 
Travel backpacks

Product image courtesy of haoyu store
Seasonality: Travel backpacks seem to be most popular in the summer months, as shoppers embark on trips. We're observing a weekly trend of searches dropping off each weekend, which could indicate that backpacks are often a last-minute purchase for travelers. Search popularity falls off in September – after the summer travel season ends – but backpacks do enjoy a nice holiday surge, as they make excellent holiday gifts.
Popularity: The jetsetter lifestyle has become an aspiration for many in the age of Instagram and Snapchat, where travel-related posts and stories have found a natural home. It's no wonder that travel accessories (especially travel bags) have been risen in popularity in recent years. These backpacks are functional and fashionable, helping facilitate the travel lifestyle that many crave. Common features of these bags include waterproof exteriors, built-in charging capabilities, GPS locators for lost bags, luggage locks, and extra storage compartments.
Korean skincare products

Product image courtesy of nokarshop's booth
Seasonality: These products are not seasonal, but rather have seen a steady increase in popularity over the past five years. Trends like this tell us that although many may view this as a fad, Korean skincare might have significant lasting power.
Popularity: The Korean cosmetics industry is one of the largest in the world (don't just take our word for it). Korea is renowned for skincare –with a focus on natural skincare instead of using makeup to cover blemishes, Korean products have been gaining traction in the US as well. Some notable examples are snail slime masks and green tea-infused beauty products.
Fujifilm Instax camera & film
Product image courtesy of shunlovestella's booth
Seasonality: As you can see from the trend chart, we see a sharp spike in interest during the weeks of Christmas and New Year's. We believe that part of the reason for this noticeable trend is that holidays tend to bring up nostalgic feelings, as do Polaroid pictures. The excitement of capturing holiday memories with an "old school" camera gets folks looking for where to buy these wayback machines. 
Popularity: As the saying goes, everything old is new again. Things like choker necklaces from the 90s, leggings from the 80s, and bold prints from the 70s have made a resurgence in the past several years. Likewise, Polaroid-like photos give instant gratification in moments you hope to remember for years to come. The Fujifilm Instax camera is a novelty product, and inspires a sense of nostalgia for the Polaroid era. 
Minimalist Watches
Product image courtesy of LuckyFind
Seasonality: These minimalist watches have been steadily gaining in popularity over the years, but (as with many other giftable items) popularity tends to spike during the holiday season.
Popularity: Watches have become increasingly more about fashion over function, especially given the rise of mobile devices. It's no surprise then that watches focusing on a minimalist aesthetic (think monochrome watches without numbers on the face) have become increasingly prevalent. They pair easily with most outfits and add an extra bit of sophistication to your look.
Teeth-whitening products

Product image courtesy of Your_Shopping_Spot's booth
Seasonality: Searches for "teeth whitening" have been steadily increasing since 2014, with bumps around early January. We attribute this to New Year's resolutions combined with an increase in available products and technologies.
Popularity: Gone are the days of Crest Whitestrips. There are tons of ways to whiten your teeth now, and many of these are hot commodities for social media advertising. Most people who use Instagram will tell you they've seen an ad for teeth whitener at some point. From big names like Kim Kardashian to reality tv stars and former Bachelor contestants, everyone is advertising these products. Some of the major players in the teeth-whitening game include toothpaste with activated charcoal and pro-light teeth whitening systems.  
Bonanza Trends
As you all know, Bonanza is home to truly everything but the ordinary. And while we all know that defining a "worthwhile product" can be pretty subjective, there are a few things to consider when adding a product to your booth.
Popularity. Is there a demand for the product?
Price. What's the ideal price point for the type of customer you want to attract? 
Postage. Keep in mind that smaller and lighter-weight items cost less to ship.
Profitability. What is your revenue after cost of product, advertising, fees, and shipping?
It's a great move to analyze each product in your booth for these qualities. However, if an item passes one but fails another, be sure to listen to your gut. For example, maybe you inherited a 1959 Chevrolet Corvette from a family member. Your profit margins will be spectacular, because you paid nothing for the car and will likely sell it for several thousands of dollars. But along with that, the cost to ship a car can be exorbitant. In this example, it may be better to sell the car locally instead.
That said, if something is trending on Google, it's probably a product worth looking into, provided it's feasible for your booth and your business. Sometimes a fad is just a fad, but if you're able to ride that wave, it could pay dividends.
As for what's trending on Bonanza? It changes on a daily (and hourly) basis, but at the time of writing this, here are a couple of popular keywords and search terms.

Product image sources: Redback boots | Supreme gear | mascara | water filter
Redback boots. This Australian boot company markets their sturdy work boots to auto technicians, first responders, construction workers, and winery (or brewery) employees. Redback boots are a niche product that seem to have infiltrated the popular consciousness due to their built-to-last materials and quality manufacturing.
 
Supreme gear. Supreme clothing and accessories are sold extensively in the secondary market. This might be because many of their products have limited runs, making much of their gear unique and easy to resell.
 
Better than Sex Mascara by Too Faced. Some products just speak for themselves. According to Too Faced, a tube of this mascara sells every 7.4 seconds, and while its clever and somewhat risqué name may pique the interest of new users, the high-quality product will keep them coming back for more.
 
Water filtration systems. Shoppers are searching for everything from Brita water pitcher filters to filters for their home appliances. One reason this could be trending is because folks are looking for ways to eliminate bacteria and germs as we head into cold and flu season.
Whether these trending products have inspired you to revamp your product offerings or look ahead to future potential trends, considering what's popular with shoppers is a great step in ecommerce success. Have you noticed any seasonal trends in your Bonanza booth or the other places you sell online? Let us know in the comments below!
Do you have a question unrelated to this post? Contact support or visit the Help Center. 
We do not own rights to the images used in this blog.