1990 Austin Sculptures "Birdie" Female and similar items
Item Details
Date of Creation
1990-1999
Listed By
Dealer or Reseller
Original/Reproduction
Original
Largest Dimension
12" - 24"
More details about this item
1990 Austin Sculptures "Birdie" Women Golfer Bronze Color Statue Signed Danel Description LOW COST SHIPPING WITHIN THE USA, BUT I WILL SHIP WORLDWIDE AT BUYER'S EXPENSE AUSTIN SCULPTURES COLLECTION Titled "BIRDIE" #AP3580 BRONZE COLORED CERAMIC WOMAN GOLFER FIGURINE DISPLAY STATUE SIGNED BY THE ARTIST ALEXANDER DANEL Here for your consideration is an original and authentic bronze tri- colored ceramic mold. This piece is a three dimensional work of art that is the unique expression or culture. Created from the earth's most enduring materials (Stone, Bronze, Wood, Metal or Terracotta), sculpture at once expresses an idea or feeling that beautifies at once expresses an idea or feeling, beautifies, inspires ornaments, and enhances our environment. The women's golfer pole is made of metal, and other types of materials are used in the beautification this piece. THE PIECE IS A DISPLAY OF A WOMAN GOLFER TITLED "BIRDIE". THIS ITEM IS FROM AUSTIN SCULPTURES/ PRODUCTIONS ITEM IS SIGNED BY THE ARTIST ALEXANDER DANEL. STATUE HAS SOME MINOR SCUFF MARKS, BUT APART FROM THIS IT IS IN GREAT CONDITION MEASURES 16" IN HEIGHT ** Please note this is a heavy piece ** **A rare find and a great keepsake or gift item** All about The Sculpture -ALEXANDER DANEL Born in 1940 in Estonia. Mr Danel graduated from both the Moscow Industrial Arts School and the Moscow Fine Arts Academy. He earned many awards and distinctions in the Soviet Union, including best Work of the Year in 1973 for his monumental work commemorating the history of the Russian Wars, installed in Kirov. In 1976, Mr Danel emigrated to the U.S. after spending a year in Rome where he sculpted set designs for Fellini's "Cassanova" and the Napoli Theater production of "Aida".After settling in New York, Mr. Danel completed commissions for Rockefeller Plaza and Radio City Music Hall. In 1992, he held his first one man show exhibiting computer generated art at a Soho art gallery in New York City. Mr. Danel was principal sculptor for Austin from 1981 until his death in 2001. Setting a standard for excellence for fifty years, Austin Sculpture continues to introduce products that are imbued with energy and a sense of style. Offering both traditional and contemporary influences, Austin creates vivid, expressive designs for home, office and garden décor. Their sculpture is both dynamic and diverse. Made of Durastone and Cold Cast resin, the collections express Austin's exemplary selection of sophisticated originality and recreations of time-honored classics. Austin Productions is based in Holbrook, New York. Their sculpture business has grown from a small family operation into a worldwide enterprise through sales of popular home and garden statues. Originally founded in Brooklyn, Austin Sculpture is now one of the leading home and garden statuary companies in the world. Payment We accept MasterCard, Visa, American Express, Discover, and PayPal. Shipping All postage is calculated at cost which also includes packaging and handling fees which make our standard low cost shipping rates more appealing to our by buyers. Items will be shipped via FedEX or USPS Flat rate postal service with Delivery confirmation, unless otherwise stated in the listing. If you buy more than one item we combine shipping give a 1.00 discount on shipping for each additional item purchased within (7) days of the first initial purchase. Please allow 5 business days for delivery once item has been paid for through paypal. Terms of Sale RETURN POLICY All items are shipped as described in the listing if the item has been damaged through shipping we'll take an assertive role to rectify the matter. We have have an excellent feedback rating because our major goal is to satisfy all our customers. PLEASE NOTE THAT THIS SELLER IS NOT AN EXPERT ON ANY OF THE ITEMS BEING OFFERED. ALL ITEMS ARE SOLD "AS IS" THEREFORE IT IS THE RESPONSIBILITY OF THE BUYER TO ASK ANY ALL QUESTIONS IN REFERENCE TO AN ITEM(S) BEFORE PURCHASING THEIR SELECTED PRODUCT. ALL SALES ARE FINAL About Us We at Jaxsprat's Unique Collectibles have been avid treasure hunters for over fifteen years. Within the confines of our beautiful and cluttered home in sunny Fort Lauderdale, Florida we have been operating our store for over seven years as a wholehearted family enterprise. Our aim is to provide showcase quality antiques, collectibles, memorabilia, and fine art at affordable prices for everyone. We seek to ensure that our customers have a wonderful experience when shopping for collectibles in our store. Contact Us If you have any inquiries or questions in reference to this item or any other item. We are available 24/7 as we make it an integral part of our customer service policy to respond to you in a efficient and timely manner. http://stores.ebay.com/Jaxsprats-Unique-Collectibles Every buyer gets a MyStoreRewards invitation for cash back
Why are we showing these items?
These items aren't really that similar to your original item, we just thought we'd show em for kicks
Search Results
"Statue"

"Statue" pg 2

Jaxsprat's U...

"Statue" pg 3
Statue
,

art from dealers & resellers

Has words: "statue"

Category "Art from Dealers & Resellers"

This item has been added to your cart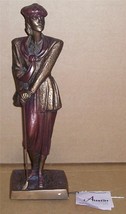 1990 Austin Sculptures "Birdie" Female Golfer Bronze Color Statue Signed Danel
added to cart.
Only one available in stock
View Cart
or
continue shopping
.

Please wait while we finish adding this item to your cart.