Six Mold Supplies Kit To Craft 100s Of 12x12 and 23 similar items
SIX MOLD SUPPLIES KIT TO CRAFT 100s OF 12x12 HEXAGON SLATE TILES FOR $0.30 EACH
View full item details »
Shipping options
This reflects the seller's handling time and may not include time spent in transit.
If you have questions about shipping, please contact the seller.
Return policy
Returns accepted within 14 days of new, unused and resalable items, with shipping prepaid by Buyer, and with Return Authorization number provided by Seller. Out-bound shipping cost deducted from refund as out-bound shipping is initially Free. Customer must offer a valid reason for return.
Purchase protection
Catalog info
View full item details »
Shipping options
This reflects the seller's handling time and may not include time spent in transit.
If you have questions about shipping, please contact the seller.
Return policy
Returns accepted within 14 days of new, unused and resalable items, with shipping prepaid by Buyer, and with Return Authorization number provided by Seller. Out-bound shipping cost deducted from refund as out-bound shipping is initially Free. Customer must offer a valid reason for return.
Purchase protection
Catalog info
Item traits
| | |
| --- | --- |
| Category: | |
| Quantity Available: | 50 in stock |
| Condition: | New |
| Model: | KIT-TILE-1222-06 |
| MPN: | KIT-TILE-1222-06 |
| Use: | Floor |
| Brand: | Olde World Stone Molds |
Listing details
| | |
| --- | --- |
| Seller policies: | |
| Shipping discount: | Seller pays shipping for this item. |
| Posted for sale: | More than a week ago |
| Item number: | 2300261 |
Item description
NOW GET FREE SHIPPING WITHIN THE CONTINENTAL USA, AND DISCOUNTED SHIPPING ELSEWHERE IN THE WORLD! LOOKING FOR THAT UNIQUE PRESENT FOR THE MAN OR WOMAN DO-IT-YOURSELFER IN YOUR LIFE? OR MAYBE IT'S TIME THAT YOU GOT SOMETHING THAT YOU WANT FOR YOURSELF! OR TIME TO START A SMALL HOME-BASED BUSINESS MAKING TILE, STONE, PAVERS, AND BRICKS. WE HAVE A NUMBER OF DIFFERENT DO-IT-YOURSELF STONE AND TILE-MAKING PROJECT KITS... (SEE PHOTOS #5-#12). YES... TILE MAKING! JUST ADD BAGS OF CONCRETE AND WATER! The "HOW TO" process is so simple... virtually anyone can do it! It's like making a cake! But no oven is needed! HERE'S HOW... 1. Lubricate the molds... a light vegetable oil will do if you don't have mold release. 2. Mix a bag of pre-mix concrete… get a shovel, water, and something to mix it in. 3. Add some concrete color, which is optional… unless you want just plain gray. 4. Pour mix into molds… vibrate a bit to compact concrete and release air bubbles. 5. Let the filled molds sit a day or so, undisturbed… over-night is fine. 6. Carefully flip the molds over the next day… and pop out what you've created from the mold! That is obviously a simplified version of the process, but it is that easy. And FREE instructions and email support are included with each purchase. THIS KIT INCLUDES EVERYTHING NEEDED TO MAKE HUNDREDS OF 12"X12"X.5" CUSTOM-COLORED, SLATE TEXTURED, HEXAGON TILES... IT CAN SAVE YOU HUNDREDS... EVEN THOUSANDS OF DOLLARS! DESCRIPTION: KIT-TILE #1222-8 THIS KIT INCLUDES: 1 set of six (8), 12"x12"x.5" Slate Textured Hexagon Tile Molds 1 quart Professional Mold Release 1 gallon of MatteKote Sealer 5 lbs. Concrete Colorant (1 Brown, 1 Harvest Gold, 1 Red, 1 Yellow, 1 Black) 8 oz. Special Premix Concrete Additive And FREE SHIPPING within the Continental USA! Or SUBSIDIZED SHIPPING elsewhere in the world! And an email and website support package to answer any questions you may have regarding making or installing the stone. YES... YOU CAN DO IT! We ship immediately upon receipt of payment… WHAT ARE YOU WAITING FOR? WE'VE PROVIDED COMPLETE TRAINING TO THOUSANDS OF ENTREPRENEURS AND DO-IT-YOURSELFERS SINCE 1992... WHY NOT TO YOU? THIS IS A GREAT PRESENT FOR THE HOMEOWNER AND DO-IT-YOURSELFER. EVERYTHING NEEDED TO MAKE STONE FOR A HOME PROJECT! OR... A GREAT STARTER PACKAGE FOR A SMALL STARTUP BUSINESS! WE HAVE A NUMBER OF DIFFERENT SIZED PROJECT KITS THAT INCLUDE EVERYTHING NEEDED EXCEPT THE CONCRETE. EMAIL FOR FURTHER DETAILS, OR CHECK OUT OUR OTHER PACKAGES IN OUR STORE. THEY MAKE A GREAT PRESENT! SquLEARN TO MAKE COBBLESTONE, PAVERS, BRICK, TILE, STONE! And you can make it almost anywhere! Your garage... barn... backyard shed... or basement! A great winter project! Make the stone this winter to apply to your home, fireplace, patio, floor, or driveway in the spring! START NEXT WEEK! You can be manufacturing concrete stone like this next week... with no experience! Once you are set up, materials to make our custom stone cost as little as 0.30 per square foot! Stone normally would retail for up to 6.00 per square foot, depending on your market area. In some areas, custom concrete stone sells for over 10.00 per square foot! If you currently own a business, our concrete stone products make a great add-on to it. We have a number of folks doing counter tops, driveway overlays, swimming pools, landscaping, decorative concrete, and other home improvement businesses... that have added this to their business successfully, and enjoyed an added revenue source with little competition. Or... just use it as it was designed... as a All-In-One Package of products to make stone for YOUR home project. YOU GET ENOUGH MATERIAL TO MAKE HUNDREDS OF SQUARE FEET OF STONE, WORTH THOUSANDS OF DOLLARS, DEPENDING ON YOUR MARKET. PLUS YOU ARE GETTING FREE SHIPPING! This kit includes all material needed to make hundreds of square feet of floor tile, except for the concrete mix and water. No special equipment, experience, or skills are required to make beautiful custom-colored stone for your project… JUST FOLLOW OUR SIMPLE INSTRUCTIONS. - - Many of the project photos on our websites were done by first-time producers. Each mold can be used 100s of times if cared for and used properly. If you need additional molds, they can be purchased in our store after, or while purchasing this kit. And complete instructions are included FREE! MORE ABOUT THE CONCRETE STONE, TILE, BRICK, AND PAVER MARKET MAN-MADE STONE AND DECORATIVE CONCRETE ARE THE TWO HOTTEST DECORATING TRENDS IN AMERICA... AND WE CAN HELP YOU BE A PART OF IT WITH THESE "DO-IT-YOURSELF PROJECT KITS". ALL OF THE RAW MATERIALS ARE INCLUDED IN THESE KITS EXCEPT FOR THE CONCRETE MIX AND WATER! Do-it-yourself, hand-made, custom-colored, concrete (or plaster), stone, brick, tile, pavers, cobblestone, steppingstones, stone veneer, and other concrete products are HOT! You can now make your own, right at home, for about .28 to .65 cents per square foot, depending on the thickness desired. With our "Do-It-Yourself Project Kits", all raw material needed is included except for the concrete (or plaster) and water. These Do-It-Yourself Project Kits include the molds, concrete colors, mold release, additive, and sealer needed to make professional-looking concrete products for your project. You will receive complete training and instructions through our training website. And remember… We are only an email away should you need additional help or advice. WHY MAKE IT YOURSELF? Many of our customers make their own stone and tile because it can be made for a fraction of what it would cost from a distributor. Many do it because the process is fun and so simple, and they have complete control over colors and techniques used to make them custom. And many do it just for the pride and self-gratification of doing it themselves! As one of our customers recently put it... "This stone project will be my legacy". Why pay six to twelve dollars or more per square foot for man-made stone, when you can make it yourself for a fraction of that price? And you can get the colors and the styles you want! No need to "settle" for a tile or paver color that a distributor has, when you can make your own custom-colored products for pennies per square foot. And as many women as men are casting their own concrete stone with our kits. No special equipment, talent, or a kiln is needed. And the cost to make the stone or tile is a fraction of the value added to your home as a result of adding it! The stone, tile, brick, and pavers that you cast will last a lifetime and beyond! Many of our customers, both men and women, end up starting a small profitable business casting custom stone, pavers, and tile! Since 1992, we've helped thousands of do-it-yourselfers make professional looking stone products for their homes… and for their businesses… WHY NOT YOU? Your project might even turn into a great family business! Something to pass down to the kids some day. The rest of the photos illustrate the actual molds, in sheet form, that you will receive. (The molds you receive are pre-cut before shipping). The remainder of the installation photos are of some of tour other stone, brick, tile and paver styles of kits. These kits contain everything that is in this kit, except that the molds are different. WE OFFER OTHER KITS TO MAKE: OLDE APPALACHIAN FIELDSTONE - OLDE DRYSTACK LEDGESTONE - OLDE OCOEE RIVER ROCK - OLDE CASTLESTONE - ANTIQUE BRICKS - VARIOUS SIZED COBBLESTONE - VARIOUS SIZED PAVERS - 18" SQUARE THICK SLATE SLABS - FLOOR TILE - AND MORE... SEE ADDITIONAL PHOTOS OF OTHER CONCRETE PRODUCTS YOU CAN MAKE WITH OUR MOLDS AND KITS! ORDER NOW AND RECEIVE FREE BONUSES THAT INCLUDE: Basic Installation Instructions on how to install stone, brick, and pavers. Free LIFETIME email support. Should you have questions EVER... just email us for answers. Order your Stone Manufacturing Kit Today... Be making Custom Stone... NEXT WEEK! THE EXCUSES ARE GONE... Want to see what some of our material looks like? Want to see additional photos of our molds, supplies, and installations? Want to explore other opportunity packages that we offer? Want a larger Package? Want a Package that includes more supplies... like more additives, colorant, sealers, mold release? Want more molds? VISIT OUR EBAY STORE BY CLICKING THE BELOW LINK: http://stores.ebay.com/Olde-World-Concrete-Molds_W0QQssPageNameZl2QQtZkm Do you have questions not answered here or on our website? Phone or Email us: 941-624-5356. BE SURE TO MENTION THAT YOU SAW US . REMEMBER... YOU CAN BE MAKING STONE LIKE THIS... NEXT WEEK! These molds can be used hundreds of times if cared for properly. They are made with .060, high-impact, Industrial ABS plastic, for strength, durability, and flexibility. SHIPPING INFORMATION - PLEASE READ We normally ship from our Port Charlotte, Florida shipping facility daily each week. Orders are shipped via UPS. Orders are normally ready within a day of receipt of payment. The rest of the time it takes to get to you is due to the carrier. Please allow sufficient time for transit before contacting our shipping department with questions about the whereabouts of your order. Please understand that it takes over a week "in transit" for packages shipped to the western USA. Figure ten days total. Please remember that UPS and other carriers DO NOT work on weekends... and once in a great while... we don't either! :-) Interested in starting your own business? Become an "Olde World Stone Tile" Producer! Since 1992, we've trained hundreds of entrepreneurs worldwide in how to start and succeed in their own tile and stone manufacturing businesses! Our business is mold design and manufacturing, so our success is truly dependent on your success! SEE OUR OTHER EBAY LISTINGS, OR VISIT OUR NEW EBAY STORE, FOR MORE MOLD STYLES AND SIZES, AND FOR MORE INFORMATION ABOUT OUR BUSINESS OPPORTUNITY PACKAGES. Check out our other items! Be sure to add us to your favorites list! For additional product information, tile and stone installation photos, and more... visit our extensive TheMoldStore and Oldeworld websites, or if you have questions, feel free to call us at 941-624-5356 or email us. On Mar-14-07 at 07:49:31 PDT, seller added the following information: On Sep-20-09 at 23:18:38 PDT, seller added the following information: Sellers: Get your own map today. Click here now. Simple.
Why are we showing these items?

These items are in the same booth & category as the original item

Booth

The Mold Sto...

Category "Other F..."

Category "Other F..." pg 2

Category "Other F..." pg 3

The Mold Store - DIY Concrete Stone, Paver, Brick, and Tile Making Molds

Booth Owner

TheMoldStore

Rotonda West, FL

Member since 02/01/09

This item has been added to your cart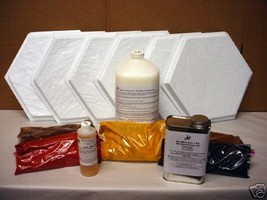 SIX MOLD SUPPLIES KIT TO CRAFT 100s OF 12x12 HEXAGON SLATE TILES FOR $0.30 EACH
added to cart.
50 available in stock
View Cart
or
continue shopping
.

Please wait while we finish adding this item to your cart.


Get an item reminder
We'll email you a link to your item now and follow up with a single reminder (if you'd like one). That's it! No spam, no hassle.