Marc Chagall 1963 Le Couple a L'arbre, and similar items
Marc Chagall 1963 Le Couple a L'arbre, Original Black & White Llithograph Print
View full item details »
Shipping options
This reflects the seller's handling time and may not include time spent in transit.
If you have questions about shipping, please contact the seller.
Offer policy
You can make your offer during the check out process.
Return policy
Purchase protection
View full item details »
Shipping options
This reflects the seller's handling time and may not include time spent in transit.
If you have questions about shipping, please contact the seller.
Offer policy
You can make your offer during the check out process.
Return policy
Purchase protection
Item traits
| | |
| --- | --- |
| Reviews: | |
| Category: | |
| Quantity Available: | Only one in stock, order soon |
| Condition: | Used |
Listing details
| | |
| --- | --- |
| Seller policies: | |
| Shipping discount: | Items after first shipped each discounted $0.00 | Free shipping on orders over $1,000.00 |
| Price discount: | 20% off w/ $200.00 spent |
| Posted for sale: | More than a week ago |
| Item number: | 484437637 |
Item description
FREE SHIPPING WITHIN THE USA, BUT I WILL SHIP WORLDWIDE AT BUYERS EXPENSE UP FOR YOUR CONSIDERATION IS A FRAMED LITHOGRAPH PRINT BY MARC CHAGALL Titled Le Couple a L'arbre 1963, Original lithograph , in black and white, on Velin Arches paper , with no margins, from an unsigned edition. Reference: Mourlot 397 - In 1963 Chagall's catalogue rasionee, volume II, dealing with graphic works was published. The artist included some lithographs within the work without margins. Original Lithograph printed by Mourlot, France 1963 for Lithographs 2, Paper Size: Vellum paper 9.5 x 12.5 inch Framed measures 18 1/4" X 15 1/4" Please not that piece is framed but will be shipped with the glass as the glass is fragile. "If a painter is Jewish and paints life, how can he help having Jewish elements in his work! But if he is a good painter, there will be more than that. The Jewish element will be there, but his art will tend to approach the universal." Looking at this marvelous work is like reading a story of two young lovers. Captured in a moment of embrace, the couple gazes into each others eyes as they float above a Parisian scene. Lost in themselves, they hardly notice the captivating green bird above them, a symbolism which delivers a refreshing version of love defined by tones of bliss, growth, and freedom. As layers of emerald and teal washes full of delicate textural create the impression of a dreamy vignette, expressive brush strokes inject feelings of lightness and ease that transport us to a state of peace and tranquility. The composition is balanced effortlessly, the couple's absence of color providing visual and symbolic relief from the richly descriptive scene ITEM IS IN VERY GOOD CONDITION AS DISPLAYED IN THE PHOTO GALLERY "Marc Chagall: Russian-born French painter. Born to a humble Jewish family in the ghetto of a large town in White Russia, Chagall passed a childhood steeped in Hasidic culture. Very early in life he was encouraged by his mother to follow his vocation and she managed to get him into a St Petersburg art school. Returning to Vitebsk, he became engaged to Bella Rosenfeld (whom he married twelve years later), then, in 1910, set off for Paris, 'the Mecca of art'. He was a tenant at La Ruche, where he had Modigliani and Soutine for neighbours. His Slav Expressionism was tinged with the influence of Daumier, Jean-François Millet, the Nabis and the Fauves. He was also influenced by Cubism. Essentially a colourist, Chagall was interested in the Simultaneist vision of Robert Delaunay and the Luminists of the Section d'Or. "Chagall returned to Vitebsk in 1914, where he was caught by the outbreak of the First World War. He married Bella there in 1915. He was appointed provincial Commissar for Fine Art in 1917 and became involved in ambitious projects for a local academy, but he left after two and a half years in order to escape the revolutionary dictates of Malevich. After a stay in Moscow, where he worked in the Jewish theatre, then in Berlin, where he studied the technique of engraving, he returned to Paris in 1923. For the publisher Vollard he illustrated Gogol's Dead Souls, La Fontaine's Fables and the Bible. Breton, who admired the 'total lyric explosion' of his pre-war painting, tried to claim him for Surrealism but Chagall only flirted with it briefly during his exile in New York (1941-48). His emblematic irrationality shook off all outside influences: colour governed his compositions, calling up chimerical processions of memory where reality and the imaginary are woven into a single legend, born in Vitebsk and dreamed in Paris. Back in France, Chagall discovered ceramics, sculpture and stained glass. He settled in the south of France, first at Vence (1950), then in Saint-Paul-de-Vence (1966). Commissions poured in: for the Assy baptistery in 1957, the cathedrals of Metz (1960) and Rheims (1974), the Hebrew University Medical Centre synagogue in Jerusalem (1960), the Paris Opéra (1963). The Musée Chagall in Nice dedicated to the 'Biblical Message' set the seal on his fame in July 1973. A painter-poet celebrated by Apollinaire and Cendrars, Chagall brought back the forgotten dimension of metaphor into French formalism."
This item has been added to your cart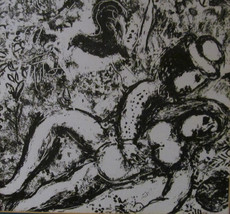 Marc Chagall 1963 Le Couple a L'arbre, Original Black & White Llithograph Print
added to cart.
Only one available in stock
View Cart
or
continue shopping
.

Please wait while we finish adding this item to your cart.
Get an item reminder
We'll email you a link to your item now and follow up with a single reminder (if you'd like one). That's it! No spam, no hassle.