Rare & Original Lydia Darvas Still Life Art and 50 similar items
Rare & Original Lydia Darvas Still Life Art Czech Slovak Mixed Media Painting CO
OBO
Seller accepts offers on this item (you can make your offer during the check out process).
View full item details »
Shipping options
This reflects the seller's handling time and may not include time spent in transit.
If you have questions about shipping, please contact the seller.
Return policy
Purchase protection
Catalog info
View full item details »
Shipping options
This reflects the seller's handling time and may not include time spent in transit.
If you have questions about shipping, please contact the seller.
Return policy
Purchase protection
Catalog info
Item traits
| | |
| --- | --- |
| Reviews: | |
| Category: | |
| Quantity Available: | Only one in stock, order soon |
| Condition: | Used |
Listing details
| | |
| --- | --- |
| Seller policies: | |
| Shipping discount: | Items after first shipped each discounted $0.00 | Free shipping on orders over $1,000.00 |
| Price discount: | 20% off w/ $200.00 spent |
| Posted for sale: | More than a week ago |
| Item number: | 484437936 |
Item description
FREE SHIPPING PROVIDED WITHIN THE USA ONLY, BUT I WILL SHIP WORLDWIDE AT BUYERS EXPENSE HERE FOR YOUR CONSIDERATION IS A RARE, AUTHENTIC, AND ORIGINAL FRAMED OIL PAINTING CREATED BY THE HIGHLY ACCLAIMED ARTIST LYDIA H. DARVAS TITLED: "FROM GOD'S GARDEN" "As an American painter of fine art in the Contemporary Modernist and Abstract Expressionist Style, I incorporate into this style the portraits and caricatures of legendary and/or famous American personalities who have significantly contributed to American history and culture." Lydia H. Darvas THIS MASTERPIECE DEPICTS A BEAUTIFUL STILL LIFE OF FRUIT DISPLAYED ON A KITCHEN TABLE SHOWCASING AN ASTONISHING EFFECT OF VIVID HUES WITH GREAT USE AND PLACEMENT. THE CANVAS DISPLAYS STRONG RAISED TEXTURED STROKES WITH LYDIA'S CLASSIC SIGNATURE STYLE AND TECHNIQUE. THIS IS A GREAT FOCAL PIECE TO ADD TO YOUR CURRENT COLLECTION CREATED BY A HIGHLY SKILLED PROLIFIC ARTIST. THE FRAME MEASURES 20.5" BY 24" INCHES, AND THE PAINTING IS IN IMMACULATE CONDITION. Lydia Darvas Date of Birth: October 8, 1935 Lydia Darvas has worked in oils, acrylics, multimedia, collages. She has used various styles starting with realistic, subsequently changing to surrealistic and abstract and finally developing a uniquely personal style characterized by hidden faces or forms embedded in surrealistic backgrounds executed on large canvasses mainly in oil but also in collages. She has named this personal style as "Comby" which indicates a combination of surrealism and collages. Occupationally induced illness: Lydia's new "Comby" technique entailed the extensive use of turpentine applied over large oil-painted surfaces. Chronic inhalation of fumes of turpentine mixed with oil pigments containing toxic heavy metals resulted in cumulative poisoning that culminated in her hospitalization. She was diagnosed with spinal spondylolisthesis and initial stages of Parkinson's disease. As a result she was forced to interrupt her artistic career since 1984. Since that time she has been undergoing detoxification therapy for her. AWARDS • June 6, 1976, Bicentennial Award in Multimedia from the American Heritage Art Show held in the Miami Herald Building, Miami, FL • Sept.8 - Oct.5, 1979, International Salon II held in the outskirts of Zurich, Switzerland • April 1980, First Prize from An/Ida Corporation Art Show, held in Miami, FL • November 2002, Registration in the Picture Reference Library of the National Gallery of Art, Washington, D.C. • Over my lifetime, Many other honors, second prizes and cash awards. SOLO EXHIBITIONS 1969 Twelfth Annual Allentown Exhibition Buffalo, N.Y. My artwork was reviewed in the "Buffalo Courier Express" and I received many mere commissions. Nov.27 Dec.28, 1970 Byron Hall Gallery, Miami Beach, FL 1970 Crystal House, Miami Beach, FL 1971 King-Cole Gallery Miami Beach, FL (Exhibition lasted 6 months) 1972 Diplomat Gallery, Hollywood, FL (Exhibition lasted 1 year) 1973 Hollywood Museum of Art, Hollywood, FL 1975 LoweArt Museum, Coral Gables, FL Feb.8-22, 1976 Parker Play House, Fort Lauderdale, FL 1978 to 1979 Grove House Gallery, Coconut Grove, FL 1982 1983 Konover Gallery, Miami Beach, FL (Exhibition lasted 2 full years) June 5, 1983 Poetry Art Exhibition, United Way fundraiser, Coconut Grove FL Feb.23, 1984 Archdiocese of Miami, Miami, FL (Exhibit and TV Broadcast) Feb. to April, 1984 Villanova, University, Miami Lakes, FL PUBLISHED REVIEWS Jan.18, 1970 "Buffalo Courier Express", Buffalo, N.Y. (Whole Page Review about Lydia's Art) Mar.21, 1972 "The Daily Sun Reporter", Fort Lauderdale, FL Dec.29, 1972 "Sun Tattler", Hollywood, FL Sep.24, 1974 "The Journal", Miami Beach/North Miami, FL Jan. 1976 1977 "Contact", Miami, FL (Reviews on pages 20 33) Aug. 6, 1978 "The Miami Herald", Miami, FL (About Lydia's Technique) June 1982 "Apollo", page 42, London, England (British Magazine) Feb. to April, 1984 "St. Thomas of Villanova University News", Miami Lakes, FL Aug. 22, 1991 "Zivot", Bratislava, Czechoslovakia (The whole of page 19) BOOKS CITING ARTIST AND HER WORK 1977 "International Biographical Directory" (second edition) 1978-1979 Contemporary American Art in "Artist USA" (seventh edition) 1987 "Encyclopedia of Living Artists in America" COLLECTIONS Club Balneario, La Ribera de Playa Az jl, Caracas, Venezuela Historical Museum, Hamburg, N.Y. Neil Armstrong Museum at Space Center, Houston, Texas Stadthause, Zurich, Switzerland Sergio Valente (the famous men's clothing designer) bought Lydia's artwork on April 18, 1982. In addition her artwork has found its way to many private and public collections in Canada, South America and U.S.A. APPEARANCES IN LOCAL TV BROADCASTS (MIAMI. FL) Channel 4 (CBS) 1976 Channel 6 (NBC) 1978 Channel 10 (ABC) 1978 Channel 17 (WLRN) ( Public Television), 1980 EDUCATION 1949-1953 MFA, Fine Arts Academy in Bratislava, Slovakia
This item has been added to your cart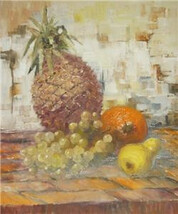 Rare & Original Lydia Darvas Still Life Art Czech Slovak Mixed Media Painting CO
added to cart.
Only one available in stock
View Cart
or
continue shopping
.

Please wait while we finish adding this item to your cart.


Get an item reminder
We'll email you a link to your item now and follow up with a single reminder (if you'd like one). That's it! No spam, no hassle.