1990 Carol Grigg "Guardians" Framed and similar items
1990 Carol Grigg "Guardians" Framed Reproduction Native Indian Litho Print
OBO
Seller accepts offers on this item (you can make your offer during the check out process).
View full item details »
Shipping options
This reflects the seller's handling time and may not include time spent in transit.
If you have questions about shipping, please contact the seller.
Return policy
Purchase protection
View full item details »
Shipping options
This reflects the seller's handling time and may not include time spent in transit.
If you have questions about shipping, please contact the seller.
Return policy
Purchase protection
Item traits
| | |
| --- | --- |
| Reviews: | |
| Category: | |
| Quantity Available: | Only one in stock, order soon |
| Condition: | Used |
Listing details
| | |
| --- | --- |
| Seller policies: | |
| Shipping discount: | Items after first shipped each discounted $0.00 | Free shipping on orders over $1,000.00 |
| Price discount: | 20% off w/ $200.00 spent |
| Posted for sale: | More than a week ago |
| Item number: | 484438635 |
Item description
FREE SHIPPING WITHIN THE USA, BUT I WILL SHIP WORLDWIDE AT MY EXPENSE UP FOR YOUR CONSIDERATION IS A AUTHENTIC 1990 FRAMED REPRODUCTION LITHO PRINT BY CAROL GRIGG A FRAMED 1990 PRINT NAMED "GUARDIANS" A REPRODUCTION PRINT OF A NATIVE AMERICAN INDIAN WOMAN BY CAROL GRIGG THIS PICTURE IS TAKEN FROM THE ARTIST ORIGINAL ART WORK AND IS DEPICTED IN THIS FRAMED ART PRINT. ITEM IS IN EXCELLENT CONDITION AND MEASURES 10" X 12" WITH FRAME ABOUT THE ARTIST Carol Grigg's poetry, music, writing, philosophy, sculpting, potting, and painting reflect the essence of her very special being. She is a whole person, consistent, confident and truly devoted to her beliefs. She believes in the land and preserving the environment we have left, the animals and preserving what species we have left, the unity of nature and the simplicity of the relationship between man, earth and beast. Carol's Oregon childhood inspired her strong feelings for the environment and her coming of age in the 60's gave her courage to become involved, contribute and use her talents and means to make a difference. Contributing her talent to many causes over the years, Carol has championed the Native American, refering to "The Lost Tribes" as the only truly aboriginal inhabitants of North America and recognizing their kinship with the land. She has drawn on the art of early Eastern cultures, of primitive cultures and prehistoric man when art reflected a more profound relationship between man, earth and beast. The cave paintings of animals such as those found in Lascaux, France have been an influence as well as the animals especially horses that she has owned and nurtured. "Artists paint for many reasons. Mine is to teach. When I do an idea over and over, such as the horse and rider, it is a way of carrying that message to more people. I like the purity of feeling that a simple, uncluttered image generates and the emotions that work on people in mysterious, subtle ways." Self taught, although her parents gave her much encouragement and the freedom to create and follow the example of her mother also an artist, Carol may have inherited her distinctive technique through ages past. Ageless in itself, her work is a culmination of artistic genius, innate talent, and the warmth created by her beliefs that flow naturally into her work. Carol keeps her painting techniques secret, "I discovered my own methods beacause I was uneducated and unindoctrinated and so I experimented. Anyone can do it. You have to get down on the floor with all kinds of material, throw them, mix them in every configuration until you understand what you've got and what you like." Carol is world renown. Her images in the form of posters, limited editions, giclees, and of course originals have gained international recognition. Her first book for children, "The Singing Snowbear" was written and illustrated by Carol. In it she explores the power of music to transform ordinary experiences in the lives of a polar bear and a beluga whale. The illustrations are created in ethereal watercolor washes and yet are so powerful that the viewer is quite impressed with the strength and magnificence of her images. It is a fabulous book for grownups as well as children. Check out my other SIMILAR items! We accept MasterCard, Visa, American Express, Discover, and PayPal. All postage is calculated at cost which also includes packaging and handling fees which make our standard low cost shipping rates more appealing to our by buyers. Items will be shipped via FedEX or USPS Flat rate postal service with Delivery confirmation, unless otherwise stated in the listing. If you buy more than one item we combine shipping give a 1.00 discount on shipping for each additional item purchased within (7) days of the first initial purchase. Please allow 5 business days for delivery once item has been paid for through paypal. RETURN POLICY All items are shipped as described in the listing if the item has been damaged through shipping we'll take an assertive role to rectify the matter. We have have an excellent feedback rating because our major goal is to satisfy all our customers. PLEASE NOTE THAT THIS SELLER IS NOT AN EXPERT IN ANY OF THE ITEMS BEING OFFERED. ALL ITEMS ARE SOLD "AS IS" THEREFORE IT IS THE RESPONSIBILITY OF THE BUYER TO ASK ANY ALL QUESTIONS IN REFERENCE TO AN ITEM(S) BEFORE PURCHASING THEIR SELECTED PRODUCT. ALL SALES ARE FINAL We at Jaxsprat's Unique Collectibles have been avid treasure hunters for over fifteen years. Within the confines of our beautiful and cluttered home in sunny Fort Lauderdale, Florida we have been operating our store online for over ten years as a wholehearted family enterprise. Our aim is to provide and showcase quality antiques, collectibles, memorabilia, and fine art at affordable prices for everyone. We seek to ensure that our customers have a wonderful experience when shopping for collectibles in our store. If you have any inquiries or questions in reference to this item or any other item. We are available 24/7 as we make it an integral part of our customer service policy to respond to you in a efficient and timely manner
This item has been added to your cart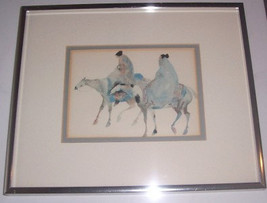 1990 Carol Grigg "Guardians" Framed Reproduction Native Indian Litho Print
added to cart.
Only one available in stock
View Cart
or
continue shopping
.

Please wait while we finish adding this item to your cart.
Get an item reminder
We'll email you a link to your item now and follow up with a single reminder (if you'd like one). That's it! No spam, no hassle.