Murano Swirled Blue, Red & Turquoise and similar items
More details about this item
FREE SHIPPING WITHIN THE USA, BUT I WILL SHIP WORLDWIDE AT BUYER'S EXPENSE Here for your consideration is a Unique Murano Swirled Designed Venetian Bulbous Vase in colors of Red, Blue Turquoise. This vase will make a nice table display and it is very captivating. Measures 8" in height, and at the widest point around the middle measures 12". This piece is absolutely beautiful and will make an ideal gift, or addition to your home decor. CONDITION IS LIKE NEW, NO NIPS OR EVIDENT CHIPS. MURANO ART The glassware art from Murano became the exclusive activity of its people and has been handed down from father to son giving birth to actual dynasties of glassware masters some of which are still active from the Middle Ages up to now. Murano is one of the most ancient, if not the most productive settlements still active in the art of decorative glass manufacturing. A true historical and cultural heritage well worth protecting and preserving. Murano' s glassware consists of precious artistic objects wanted by collectors all over the world that even up to today maintain, unaltered, their beauty, originality, and elite value. Our store specializes in rare antiques, fine art, and collectibles at deep discounted prices. We strive to provide you the finest collectibles from around the globe. Our inventory consists of hard to find works of art from Europe, South American, USA, Caribbean, African artists and craftsman. Quality Native American Indian Art; Impressionists, Modern Contemporary Paintings, Depression Glass, Fine China Pottery, Decorative Plates, along with our vintage catalog of African American, Sports, and Entertainment Memorabilia. We welcome you to browse through our large collection of quality merchandise. Official PayPal Seal We accept MasterCard, Visa, American Express, Discover, and PayPal. RETURN POLICY All items are shipped as described in the listing if the item has been damaged through shipping we'll take an assertive role to rectify the matter. We have have an excellent feedback rating because our major goal is to satisfy all our customers. PLEASE NOTE THAT THIS SELLER IS NOT AN EXPERT ON ANY OF THE ITEMS BEING OFFERED. ALL ITEMS ARE SOLD "AS IS" THEREFORE IT IS THE RESPONSIBILITY OF THE BUYER TO ASK ANY ALL QUESTIONS IN REFERENCE TO AN ITEM(S) BEFORE PURCHASING THEIR SELECTED PRODUCT. ALL SALES ARE FINAL We at Jaxsprat's Unique Collectibles have been avid treasure hunters for over fifteen years. Within the confines of our beautiful and cluttered home in sunny Fort Lauderdale, Florida we have been operating our store for over seven years as a wholehearted family enterprise. Our aim is to provide showcase quality antiques, collectibles, memorabilia, and fine art at affordable prices for everyone. We seek to ensure that our customers have a wonderful experience when shopping for collectibles in our store. If you have any inquiries or questions in reference to this item or any other item. We are available 24/7 as we make it an integral part of our customer service policy to respond to you in a efficient and timely manner.
This item has been added to your cart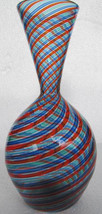 Murano Swirled Blue, Red & Turquoise Venetian Style Large Bulbous Glass Vase Dis
added to cart.
Only one available in stock
View Cart
or
continue shopping
.

Please wait while we finish adding this item to your cart.