Philips SpeechMike Pro Plus and 16 similar items
Philips SpeechMike Pro Plus
OBO*
Seller accepts offers on this item (you can make your offer during the check out process).

* Seller requires that you have 5 or more feedback before you can send them an offer on this item.
View full item details »
Shipping options
$17.50 via Unspecified shipping type to United States
Return policy
Refunds available: See booth/item description for details
Purchase protection
View full item details »
Shipping options
$17.50 via Unspecified shipping type to United States
Return policy
Refunds available: See booth/item description for details
Purchase protection
Item traits
| | |
| --- | --- |
| Reviews: | |
| Category: | |
| Quantity Available: | 2 in stock |
| Condition: | Used |
| Brand: | Philips |
| MPN: | LFH5276 |
Listing details
| | |
| --- | --- |
| Shipping discount: | No combined shipping offered |
| Posted for sale: | More than a week ago |
| Item number: | 515155194 |
Item description
Welcome to Action Computers Bonanza Page! 100% Customer Satisfaction Is Our Goal! Please contact us before leaving anything less than Positive Feedback! Philips SpeechMike Pro Plus - Used Physical Condition: The SpeechMike is in great condition. No scratches or marks on the device. The SpeechMike has been tested and it controls the desktop and picks up my voice throught the microphone. Specifications: Dictate directly onto your PC with the Philips SpeechMike Pro Plus LFH-5276. The 5276 gives you total control of your PC voice / dictation application in one lightweight unit. Record dictations directly onto your PC with the recording function buttons, ergonomically located for one-thumb operation. The scroll wheel and the trackball allow you to precisely navigate through all of your PC screens. The four function keys and two trigger-style touch buttons on the rear of the unit are fully programmable, giving you more control than ever before. With the SpeechMike LFH5276 Pro Plus, you have total PC and dictation control at your fingertips. Key Features: The new SpeechMike Pro Plus is an ergonomic, PC-connected handheld device for PC dictation Recording function buttons Dustproof optical trackball and scroll wheel for precise navigation Larger buttons with tactile feedback Four function "zones" allow single-handed operation of PC, plus all recording, playback and editing functions Control Application for assigning buttons for use with third party applications Four programmable function keys give full individual customization options End-of-letter, insert/overwrite and spoken instructions buttons Large record and pause LEDs; improved microphone sensitivity range All buttons are fully programmable and re-mapable Two programmable trigger-style touch buttons on the rear of the unit Smaller, lighter slimmer profile New adjustable volume control during playback via the scroll wheel Excellent sound quality "On-air" style recording mode LED with different color LEDs to indicate overwrite and insert modes PC Requirements: Weight: 155 g Dimensions (mm) W x L x H: 43 x 155 x 30 Acoustic frequency response: 200 – 6,000 Hz Output power: 100 mA Included Accessories: None Location: Bin 10 This DOES NOT include other cables, software or accessories except for those listed under Included Accessories This sale Includes ONLY What Is Pictured No Disks, Docs, Accessories or ANYTHING NOT PICTURED Here is some feedback from one of our customers: "Lightning Fast And Easy Transaction. One Of The Finest. AAAA" Thank You For Your Business - I Personally Assure Your Satisfaction. Mark Hope - Action Computers, Inc. Terms of our Sale: All of our items are Tested and Guaranteed unless otherwise noted. Unless otherwise explicitly stated, the photo in this ad is of the actual product you will receive. Check our feedback, we are high volume sellers. You will get a great deal and excellent service. Unless otherwise explicitly stated, our auctioned items are USED items. A Bonanza Listing Is A Binding Contract. Please only buy or make an offer if you are serious about purchasing! Product Return Shipping Policy If warranty applies, buyer must return product to us in its original or equivalent packaging, prepay shipping charges, and insure the shipment or accept the risk of loss or damage during shipment. We will return repaired or replaced product to you, or refund the amount of the final price. Payment Options: Please contact us if you have any questions on forms of payments accepted. PayPal: PayPal is our preferred payment option. Most PayPal payments ship within 1 to 2 days! Buyers Must Have a Confirmed Paypal U.S. NON P.O. Box Shipping Address, and our transaction (your payment and our shipment) must be eligible for PayPal's Seller Protection Policy coverage. We Will Only Ship To Your U.S. PayPal Confirmed Address!! Unfortunately, We CANNOT Ship to P.O. Box or APO/FPO Addresses Credit Cards: Use your credit card with PayPal! Please pay via PayPal within 3 days of commitment price. Items that are shipped or picked up within the State of Colorado will be charged the appropriate sales tax. Shipping Insurance The first 100.00 of shipping insurance is automatically provided; if the value of your item exceeds 100.00 and you would like additional coverage, please let us know and we will be happy to get you a quote. Packing and Handling As important as the packing material is who packs your new purchase. Our packing and shipping personnel have been trained to make sure you get the highest level of customer service possible. Need a tracking number? No Problem! Fuel Surcharges As you probably know, carriers are currently adding hefty fuel surcharges and we only pass on what they assess; we can only hope this will end soon! Shipping: This is the fee charged to us by the carrier. We ship a ton of stuff so we are always negotiating the best shipping rates. Although we constantly look for ways to reduce the overall shipping expense to our customers, we will not reduce our level of customer service or the quality of our packaging and shipping. Items may be picked up at our Colorado Blvd location in Denver, Colorado. Please note that you will be charged CO sales tax at the rate of 7.65% if you choose this option. All Items Shipped to Colorado will be charged 7.65% Sales Tax. Combine Shipping And Save!: We will combine shipping to lower your shipping costs if you buy more than one item from us at the same time. Take a look at our other auctions and we will work hard to reduce your shipping fees on multiple items if we can ship them together. Any damage due to shipping must be reported within 72 hours of delivery. All original packaging materials must be kept for claim purposes. We do not ship internationally, which includes Canada. We will ship USA only. P.O. Boxes Are Not Accepted. We do NOT ship outside the USA - Please do not ask. We will ship to Alaska, Hawaii Puerto Rico- Extra shipping charges will apply. Our Shipping Department is open Monday through Friday. We ship via FedEx Ground - Call or email for rates on shipping by air. We REQUIRE signatures on packages at no additional charge when the winning bid exceeds 200.00 USD. 95% of our auctions will have the shipping price stated in the ad, feel free to add that shipping price to your winning bid and send in your payment. (Please note available payment methods above) If the shipping price is NOT stated in the auction or you are in Alaska or Hawaii please email us at the auctions end including your zip code and we will get a total for you asap. Thank You Very Much For Your Business. Please feel free to call with any questions - 303-759-1668 Action Computers, Inc. = Bid with Confidence We have been selling computers since the early 1990's. Trust us like thousands of others have and become a long term customer today! Action Computers, Inc. 2890 S. Colorado Blvd. Denver, CO 80222-6626 303-759-1668 We deal mainly in corporate surplus personal computers components. Ref: DB
Why are we showing these items?
These items are of the same brand and category as the original item
Search Results
Category "Voice R..."

Category "Voice R..."

Category "Voice R..." pg 2

Category "Voice R..." pg 3
Category "Voice Recorders, Dictaphones"
Philips

This item has been added to your cart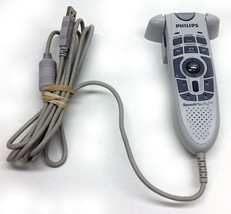 Philips SpeechMike Pro Plus
added to cart.
2 available in stock
View Cart
or
continue shopping
.

Please wait while we finish adding this item to your cart.


Get an item reminder
We'll email you a link to your item now and follow up with a single reminder (if you'd like one). That's it! No spam, no hassle.