Vintage Fisher Price Play Family #993 and 26 similar items
Item Details
Recommended Age Range
3+ years
Country/Region of Manufacture
United States
Character
Pilot, Flight Attendant, LP Family
Character Family
Little People Family
More details about this item
Vintage Fisher Price Play Family #933 Jetport Play Set COMPLETE/VG-VG (E) Vintage Fisher Price Play Family #933 Jetport Complete/ VG- VG (E) (MORE PHOTOS BELOW) Here for your consideration is a wonderful, Fisher Price Little People #933 Jetport Play Set. Produced between 1981-85, this play set consisted of 22 pieces. This particular offering is 100% COMPLETE and is in VG-VG condition. In 1986, Fisher Price redesigned and renamed this set to Fisher Price Little People #2502 Airport. The set consists of a one piece building that features an attached control tower, ticket window, gift shop, restrooms, and passenger drop off area. The passenger drop off area has a red barricade that can be lowered to regulate the traffic flow. The roof has a crank that when you turn it, the blades of the helicopter spin. All of the lithos on the airport base are present and in TERRIFIC condition (VG-EXC condition). After repeated inspections, the only "flaws" I can discern on either the EXTERIOR or INTERIOR lithos are: 1. A couple of small bubbles on the girl and boy Air Traffic Controller lithos along with some edgewear on the corners of this litho; 2. One, small bubble on the coffee cup litho; 3. Two, vertical hair-line creases on the front parking litho; these are extremely difficult to see and certainly don't detract from the overall appearance of this base; 4. A couple of teensy bubbles and two, hair-line vertical creases on the rear Air Traffic Controller litho; 5. One, 1/4"L x 1/8"W tear on the top, left-hand corner of the main Fisher Price logo; 6. Two, faint, intermittent, vertical hair-line creases on the bathroom door litho; and 7. A couple of small bubbles to the left of the lady's head in the Gift Shop litho. I know my description sounds horrendous; however, I'm being super "nit-picky" here. Most of these "imperfections" would not even be disclosed by most sellers. All of the lithos are clean and brightly colored. The plastic surfaces are in great shape (EXC)! They are free of any abrasions, "dings," indentations, chips, cracks, or repairs. The only "flaws" I can discern are a few light surface scratches and some discoloration on the gray driveway in front of the Jetport's entrance. These "discolorations" take the form of four, leached out spots. The radar screen and helicopter blades rotate when the red crank is turned. The red barricade also raises and lowers as designed. The gas pump at the rear of the terminal possesses its original nozzle and is free of any "nibbles." The underneath surface of the base exhibits a number of surface scratches and scuffs. These definitely do not detract from the overall appearance or functioning of the piece. The set also features: 1 HTF blue/yellow jet with its original pull string (VG-VG-- the body of the plane is creamy white without any yellowing; there are some extraneous light blue marks on the body of the plane along with a few indentations behind the pilot's window; I'm hoping the blue marks will come off during the cleaning process; both of the blue wings exhibit some scratches, scuffs, and one abrasion; the latter has resulted in some minor paint loss on the right wing; both tail lithos demonstrate some marked damage(please see photos); the wheels show little, if any, "road wear;" the plane still makes its original whirring sound when rolled; the door remains closed when in "flight;" the original pull string displays some "nibbles;" if these tail lithos were intact, this plane would warrant an VG-EXC rating); 1 HTF yellow/blue helicopter w/blue rotor blades and solid, black triangular stamps on the blades (VG-EXC--a few teensy "nibbles" on one end of a roter blade and one tail rudder); 1 HTF blue/yellow tug tractor without Fisher Price written on the wheels (EXC-- some light scratches on the top of the vehicle; overall color of the vehicle has remained sharp and bright; no chews on hitch); 1 HTF yellow baggage cart without Fisher Price written on wheels(EXC-some light surface scratches--especially on the top ends of the cart; although not readily visible, I can detect via touch some miniscule "nibbles" on the C hitch; these are difficult to see); 1 HTF blue/yellow fuel tanker with original hose and nozzle (VG--some "nibbles" on the end of the nozzle; some dulling of the wheel caps; I believe I will be able to remedy this with a generous application of Naval Jelly; also appears to be a couple of "nibbles" on the underneath side of the C hitch); 2 HTF orange coffee tables (1 EXC-NEAR MINT and the other VG--surface scratches and a couple of possible melt marks on the underneath side of the table; I just now noticed these; I'm going to check my stock of orange coffee tables and see if I can find another one in better shape; the trick is trying to match the orange colors; sometimes Fisher Price used slightly different amounts of certain ingredients and thus ended up with slight variations in color; 4 brown captain's chairs with triangles on the back (EXC); 1 white/green 2 seat passenger car with baggage rack and FP written on the wheels (VG--surface scratches and some dulling and a tad amount of rust on some of the wheel caps; the latter will be eradicated with a generous application of Naval Jelly; I'll also be applying some Armor All wipes and buffing the car to reduce the presence of the surface scratches; car also exhibits a few tiny indentations and some fraying of the edge of the plastic near the right front wheel well); 1 VHTF round, blue luggage (VG--a puncture caused by a child's errant tooth underneath the handle; some "nibbles" on the handle of this piece of luggage along with some scrapes on the side of the luggage); 1 VHTF square, brown luggage (EXC-some "nibbles" on the handle); and 6 ALL PLASTIC LITTLE PEOPLE. These are original to this set. These include: 1 VHTF, short, light blue bodied, flight attendant with blonde hair and blue cap (VG-EXC--some mild edge wear around the middle and bottom of the figure); 1 short, blue bodied Caucasian pilot (NEAR MINT--one pin-head size rub on nasal bridge); 1 RARE, tall, blue bodied, African-American pilot (NEAR MINT--some slight roughness around the front brim of the cap; this is NOT due to chews; NOTE: I have substituted this tall, AA pilot in lieu of the short, blue bodied AA pilot that often came with this set); 1 RARE, tall, tan bodied Dad with black heat stamped hair (NEAR MINT--one pin-head size rub to right eyebrow and one, pin-head size indentation on the back side of the piece); 1 tall, blue bodied Mom with blonde pony (NEAR MINT---minuscule rubs to mouth); 1 RARE short, orange bodied girl with rust sculpted hair (NEAR MINT--one, tiny indentation of the left edge of her hair; this was probably caused by a child's errant tooth); and 1 HTF short, yellow bodied boy with red heat stamped hair (NEAR MINT--one, tiny rub on left eye and on nose; minuscule wear to bottom of piece). I will be thoroughly Q-tip cleaning this play set and all of its accessories prior to sending it to its new owners. I spend a minimum of 1- 1 1/2 hours cleaning each and every set that I sell (except those clearly marked in My Rough Room). REMEMBER, this VINTAGE Fisher Price Little People play set is NOT included in the recent FP recall of toys made in China. It was manufactured in the good ole' U.S.A. in 1985!!!! It's 32 years young and still personifies Fisher Price's reputation for imaginative, durable toys. Purchasers should refrain from allowing children under 3 years of age to play with these toys without adult supervision or to offer these toys to children who may be still mouthing their toys. *****NOTE*****Please check out my other listings for more COMPLETE, VINTAGE Fisher Price Little People play sets. This particular base weighs approximately 6- 6 1/2 lbs. UNWRAPPED. My zip code is 47905 (INDIANA). I'm more than willing to combine listings into one shipment. However, if you purchase multiple items, PLEASE check them out together so they will appear on one invoice. If you pay separately for these items, I MAY BE CHARGED MULTIPLE TRANSACTION FEES BY PAYPAL and I may have trouble printing out an accurate PayPal shipping label. The latter is critical for international shipments. I'm willing to ship to Canada using the USPS Priority International Mail. Buyers are responsible for all shipping costs. Insurance is required. I cannot be responsible for packages once they leave my possession. Similarly, Canadian residents are responsible for any Customs fees, duties, brokerage charges, and VAT's. See my other listings for more great items! Note damage on tail litho. Note damage on tail litho. PayPal is the preferred manner of payment. All payments are due within 5 business days of the listing's conclusion. I also accept bank-issued Cashier's Checks and Postal Money Orders. Due to my bank's policies, I am unable to ship your item until these forms of payment clear my bank (usually within 3 business days). Please contact me if you would like to pay via a Cashier's Check or a Postal Money Order. The price listed is for the item itself. The total amount due will be the purchase price of the item the ACTUAL shipping cost to deliver your item to you. All shipping costs or extra fees (in the case of Canadian shipments) are the responsibility of the buyer. I will do everything in my power to find you the cheapest shipping rate—-whether it's the USPS (First Class or Priority), Fed Ex, or UPS. I DO NOT PAD MY SHIPPING COSTS—-NEVER HAVE AND NEVER WILL! I SHIP WITHIN 48 HOURS OF A CLEARED PAYMENT. I primarily utilize Fed Ex Home Delivery for items exceeding 5 lbs. in weight, measuring greater than 12 inches in any dimension, or traveling longer distances. I've been finding Fed Ex has been running @33% cheaper than the USPS and UPS Ground. FYI, another benefit of using either Fed Ex or UPS is that their quote includes up to 100 worth of FREE insurance. Additional amounts of insurance may be purchased for a nominal fee (that is much less than the USPS). Fed Ex also provides automated tracking updates re: your parcel's whereabouts directly to your personal e-mail account. In order to ship Fed Ex (or UPS for that matter), I MUST have a residential or work place address, NOT a P.O. Box number, as well as a home or cell phone. Otherwise, they will not accept the shipping paperwork or transport your item. Packages traveling to Alaska or Hawaii will be shipped Parcel Post via the USPS. Insurance and delivery confirmation are required. I'm more than willing to combine multiple purchases into one box whenever it is safe to do so to decrease your shipping costs. PLEASE combine your purchases on ONE INVOICE. If you pay for these items separately, I get charged multiple transaction fees by PayPal plus you get over-charged on your shipping. Of course, I will refund you any amount over 1.00 that you've overpaid on shipping. I'm more than happy to ship selected play sets to Canada. Remember that shipping to Canada can be quite expensive so please contact me for a shipping quote before you purchase an item. I will attempt to find the cheapest shipping rate possible. Canadian customers will be responsible for any brokerage fees, Custom's duties, or VAT's imposed by your government. I am not responsible for these charges. Insurance is required for all international shipments. Last, but not least, I offer a 10% discount for orders totaling 125.00 or more. ALL SALES ARE FINAL. NO RETURNS ARE ACCEPTED. I have attempted to bring any noted "imperfections" to your attention prior to your purchasing the item. However, I'm only human. If I have missed something or you have a problem with your purchase, please contact me prior to leaving feedback. Customer satisfaction is #1 for me. I try to provide outstanding service, high quality merchandise, and secure and expedient shipping. Feedback is important and I will be happy to leave you feedback once I know everything has arrived safely and that you are pleased with your purchase. Leaving me feedback helps me gauge how well I'm doing and also serves the Bonanza community by directing them to sellers who proffer outstanding merchandise and service. txzj pxzj2038 txzj-11 txzj71 txzj115
Product reviews for "Fisher-Price Little People Figure (1980s)"
This item has been added to your cart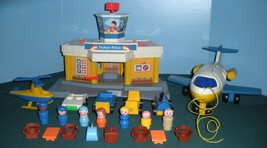 Vintage Fisher Price Play Family #993 Jetport Complete/VG+-VG++ (E)
added to cart.
Only one available in stock
View Cart
or
continue shopping
.

Please wait while we finish adding this item to your cart.