Celebrate good times, come on!
Here we are. Halfway through Anniversary Week. Hopefully you've been creating pre-made marketing campaigns, beautifying your booth, and taking advantage of our killer membership sale. 
We busy bees at Bonanza HQ have been hard at work over the past few months, collecting ideas and feedback and converting them into honey for our sweet sellers. Sellers and shoppers alike are abuzz with excitement about these new changes. These features are so great, you'll hardly bee-lieve them.
9 Bonanza features to know about
1. Shopify Importer
The Shopify importer was a highly requested feature from sellers. It takes all of your active listings from Shopify and copies them into your Bonanza booth with as much detail as it can gather. Importing items from Shopify is free and usually is completed within a few hours, though sometimes can take as long as 24-48 hours, depending on how many items are being imported and how many imports are in the queue.
The Shopify importer will copy standard listings that have a quantity of greater than 0. If you import your items multiple times, subsequent item imports will only import items that were added to your Shopify store since the last Shopify import. You can indicate on the importer if you'd like to override existing items imported from Shopify to Bonanza. To start importing from Shopify, follow these instructions.
2. Editing item images in the Batch Editor 
In order to make managing your item listings easier, we've added image editing capabilities to the Batch Editor. Our goal with this was to help sellers make changes to their item photos quickly and easily. To use this feature, select "Batch Edit Items" from the Selling dropdown menu in the upper lefthand corner of any page. From there, select the tab that says "Image Editing."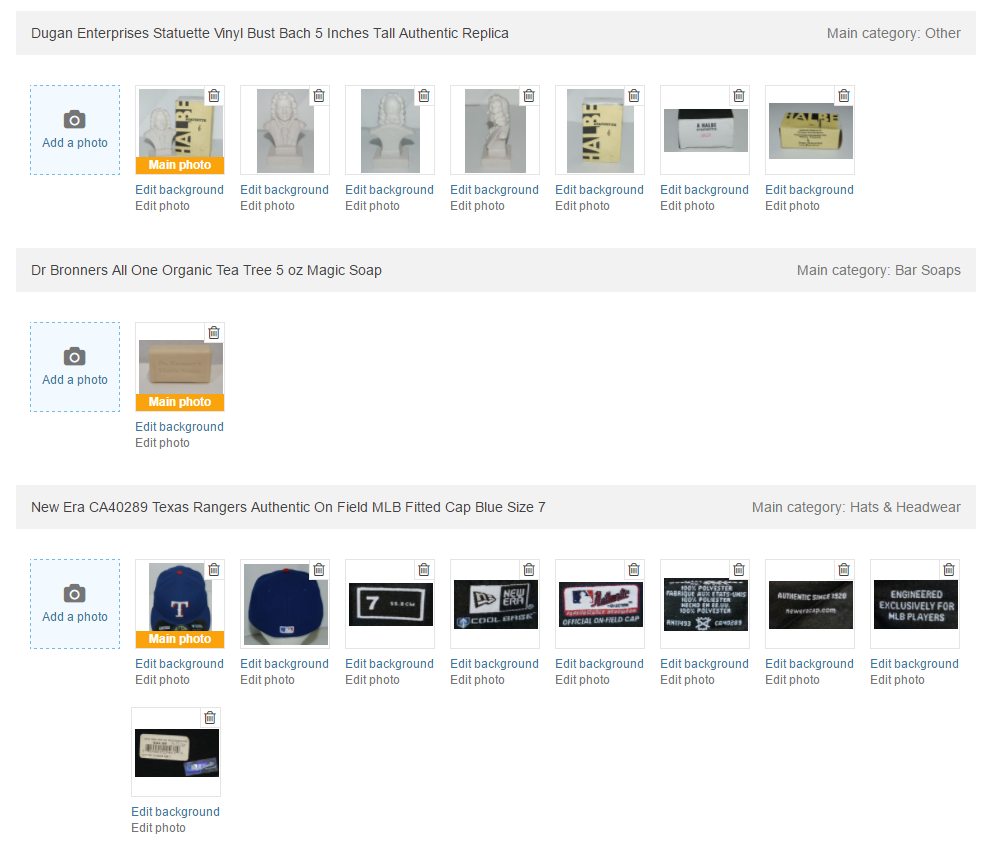 You can filter your listings based on a variety of characteristics. This is especially handy if you'd like to edit your items that may have been disapproved by Google Shopping.
3. Membership checklist
Bonanza memberships come with a bunch of great tools and features to make selling on Bonanza a breeze. But you might not be aware of the exact features you have access to, or how to use them to your benefit. That's where your membership checklist comes in. The checklist spotlights different actions you can take to make the most out of your membership, and checks them off upon completion.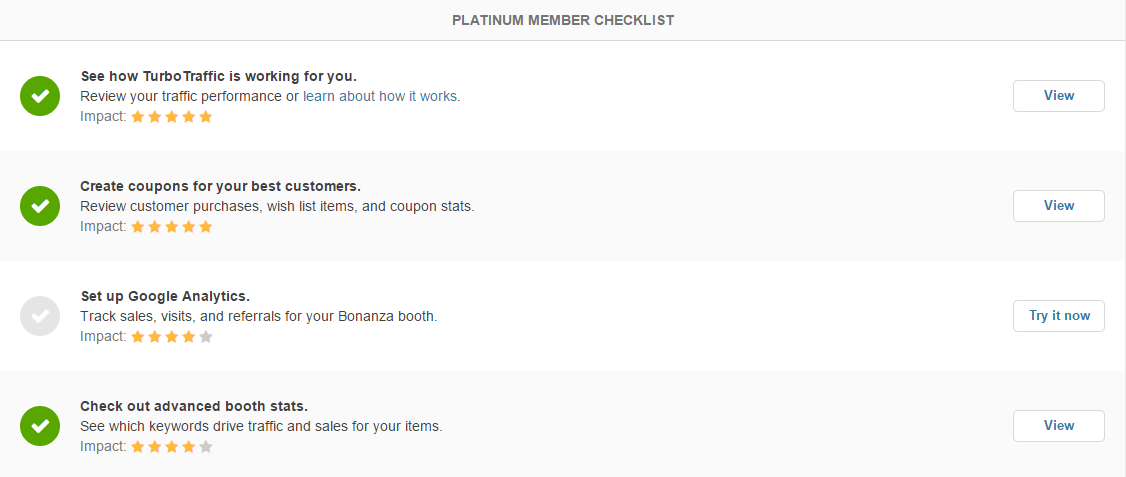 Is there anything more satisfying than checking items off a list?
If you visit the memberships page and click the "View Benefits" button for your membership level, you can see the details of your membership plan, as well as the membership checklist. 
4. Yearly sales report
Some of you might recall our recent blog post about this feature, but it's one that we want to reiterate. The yearly sales report shows your total Bonanza sales for a given calendar year. You can view current year-to-date sales for 2017, or complete sales from a previous calendar year.
This report makes managing revenue and spending on Bonanza much easier. The report includes an at-a-glance look at sales, revenue, final value fees, and taxes, as well as a list of additional fees for other Bonanza services that you might be paying for. The report also displays each month for the year individually, allowing you to dig deep into your transactions for any given month.
You can access your yearly sales report by clicking "Yearly Sales" under the "Reports" tab of your Selling Dashboard.
5. Updates to the Coupons page
We want to make it easy for buyers to find great deals on Bonanza that drive sales to your booth. That's why we recently updated the Recent Coupons page.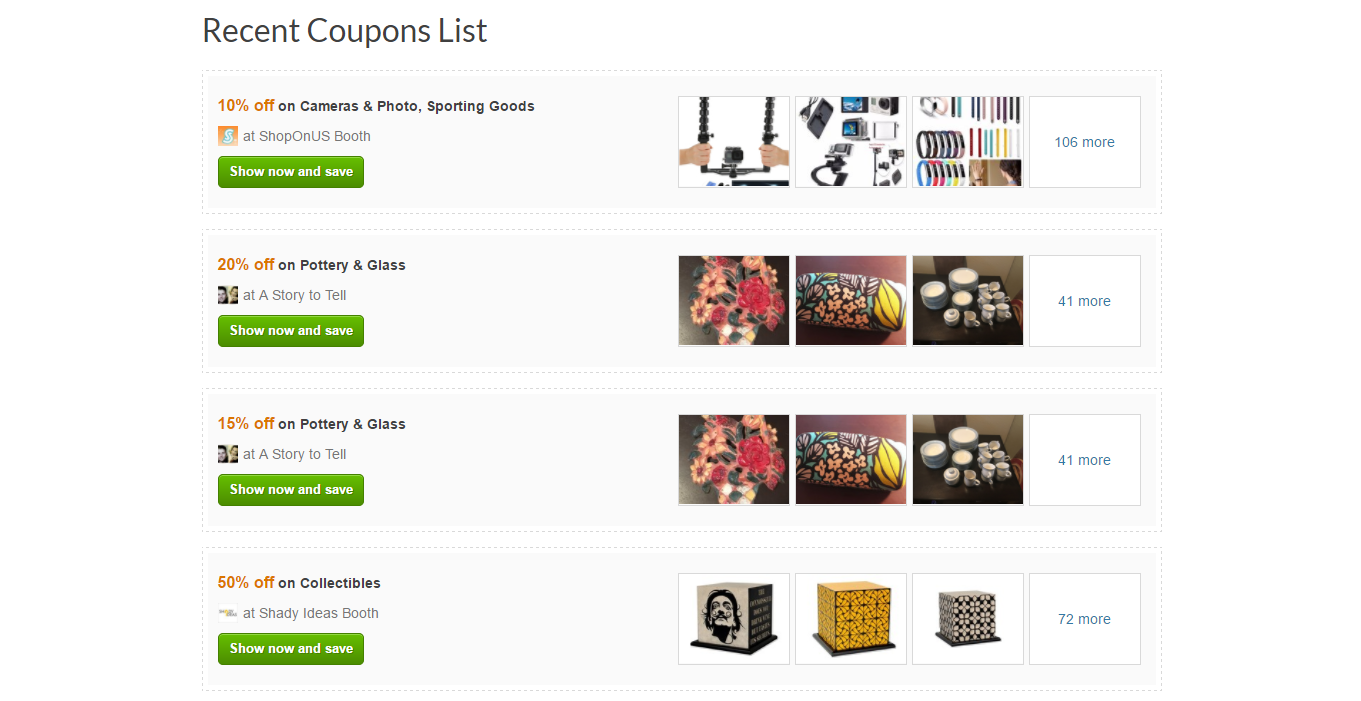 Now, customers can easily browse the newest coupons on the site, and traffic is directed straight to your booth from this page. To create a coupon, visit the "Discounts & Coupons" tab of your Booth Settings. There, you can create and specify discounts to your heart's content.
6. Feedback coupons
Earning positive feedback will help build your reputation as a top seller. One way to encourage positive feedback is by sending a coupon as a "thank you" to buyers who leave you positive feedback on purchases from your booth. This small token of appreciation is just one way to build repeat business.

To create a coupon, visit the "Discounts & Coupons" tab of your Booth Settings and select the option to "Send this coupon as a gift to buyers who leave feedback."
7. After sale message
Using the "After Sale Message" feature on Bonanza is a great way to create goodwill between you and your customers. To set up an after sale message, visit the "Payments & Purchases" tab of your booth settings. Here's an example of an after sale message:
Thank you for your purchase from my booth! Your order is being processed. You should see a tracking number on your order within (1) business days, and delivery in (7-12) business days. After your order has arrived to your satisfaction, we would be delighted to receive a positive feedback from you. Please contact me with any questions or concerns. Thank you for your business! 
8. Pre-made Customer marketing campaigns
Creating a Customer marketing campaign has never been easier, now that we've unveiled our pre-made campaign templates. You can read all about this new feature here. In honor of Bonanza's anniversary, if you create a pre-made campaign between June 19th and June 25th, Bonanza will cover the cost of your final value fees for up to five sales made from using a pre-made campaign. Here are the promotion details:
The sales must be the result of a campaign created from our pre-made campaigns.
The maximum campaign length is two weeks.
The cost of the waived final value fees cannot exceed $50 total.
To try out our pre-made campaigns, click "Marketing Campaigns" in the Customers tab of your Selling Dashboard.
9. The Bonanza Instagram
Hopefully you've all been following Bonanza's Facebook and Twitter for some time. But have you heard about our Instagram? All the cool kids are doing it - and by "it," we mean following us on Instagram! It's a great place to see what your favorite Seattleites from Bonanza HQ are up to, as well as see amazing products featured from your fellow sellers! Follow us @bonanzamarket.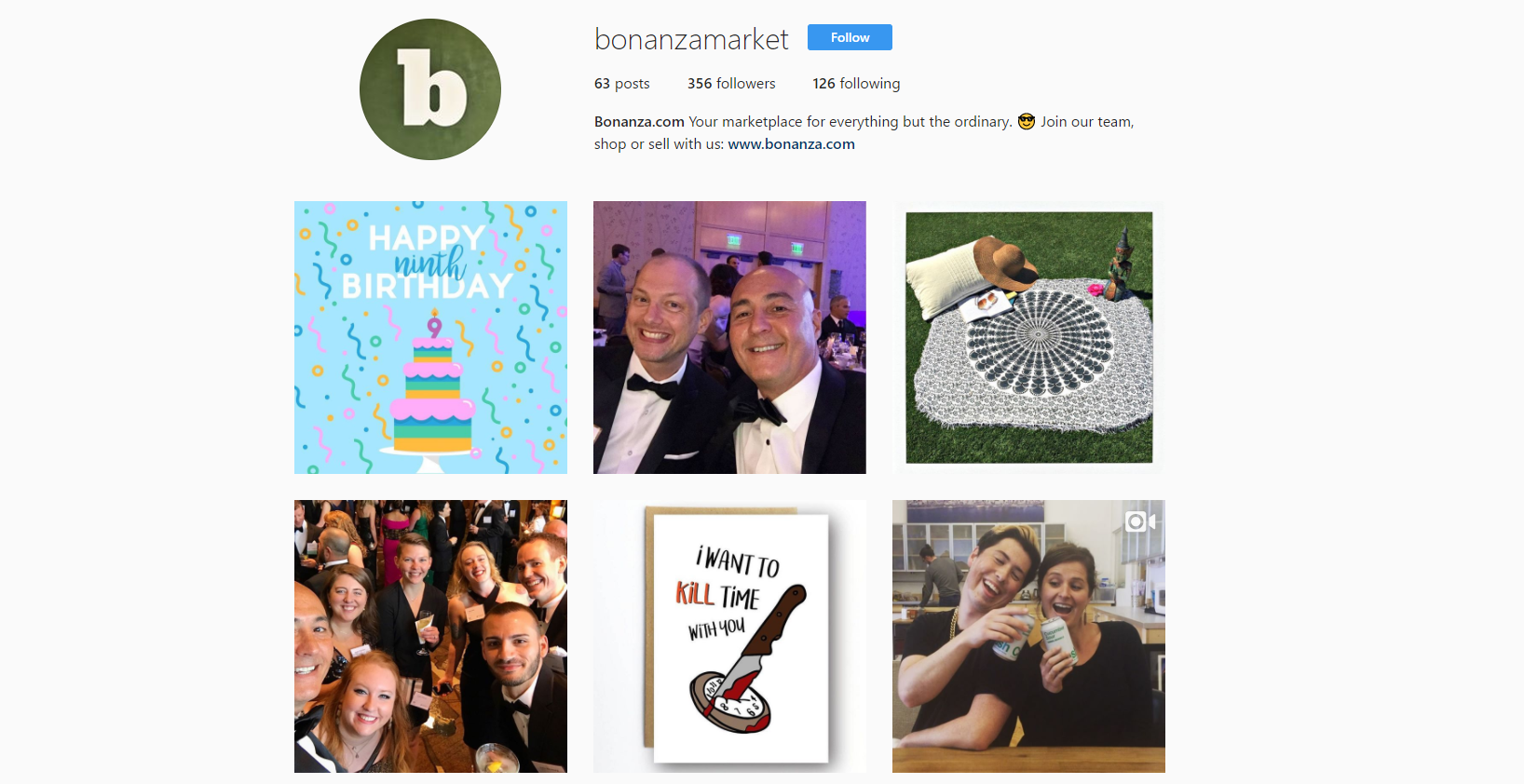 If you're interested in being featured on the Bonanza instagram, submit your username here. Also, be sure to tag us in your photos (our username is @bonanzamarket) and use the hashtag #bonanzaseller so we can find your great posts.
More Anniversary Goodies

Make your booth pretty
What better way to celebrate Bonanza's 9th Anniversary than to dress up a little? Customize your booth during the festivities and enter to win a deluxe booth prize package. Bonanza has designed easy-to-use tools to help you spruce up your booth and show your shoppers why shopping with you means having the most fun at the party!
Make a great first impression on your shoppers by dressing up your booth banner. Choose from Bonanza's gallery of beautiful designs or upload your own. Just be sure to select a banner that visually represents your store and offerings to build your brand identity. You can freshen up your banner in the Title & Overview tab of your Booth Settings. Add a few fun accessories for that perfect finishing touch. Pro members can link your customizable booth panels to your most popular items, seasonal merchandise and any promotional markdowns or coupons that you want to promote to your buyers. Shoppers will see these attractive ads displayed above your listings and want to stick around to browse and learn more. This exclusive pro member feature can be found in the Booth Appearance tab of your Booth Settings.
As you mingle, use your booth profile to introduce yourself. This is your opportunity to tell your shoppers what makes your business so special. Your customers will be convinced that making a purchase is a great idea after hearing about your company's history, the quality of your products and your passion for customer service. Make a lasting impression. Spiffy up your Profile via the Account dropdown menu on the upper-left hand side of any page. Whether you go black tie, creative casual, or all out sparkle, use your booth features to show off what makes your business and our community so unique. Enter to win by June 23, 2017. Now let's go celebrate what we've built together! 
The winner will receive a Fine 9 Deluxe Booth Prize Package, which includes:
1 TurboTraffic Package
A Seller Spotlight on the Bonanza Blog 
A booth consultation from our team of experts
A Custom Badge for your profile
Item(s) from your booth featured in a homepage HPL
An item feature on Facebook / Twitter
Featured item in newsletter
A Bonanza T-shirt
A Bonanza Sticker variety pack
To qualify for this contest, you must have completed the "About Me" section of your profile and the "Booth Overview" section of your booth settings. You must also have a customized booth banner. Then, fill out this brief survey after you've updated your booth banner and profile. 
Memberships are on sale!

This week is Bonanza's 9th Anniversary and we want to celebrate with you! Join the party. Save an additional 25% off annual Gold, Platinum, and Titan membership subscriptions, now through June 25th.
Sign up now to save on membership-only features designed for professional sellers like you:
Attract up to 300% more shoppers with Turbo Traffic (Platinum, Titan)
Up to 100,000 listings, no restrictions on digital downloads (Titan)
Advanced eBay import filters (Platinum, Titan)
More insight with advanced item stats (Gold, Platinum, Titan)
Personalized care and exclusive access to phone support (Titan)
More advertising channels with no additional commission (Titan)
Purchasing an annual membership during our sale will save you up to $900 off athe monthly subscription price. With no contracts required, what do you have to lose? Don't miss this opportunity for huge savings on a membership that will benefit your business all year long.