Bonanza's 14th Anniversary Membership Sale Starts Now!
Anniversary Week has arrived! We're so excited to show our appreciation for the Bonanza community. Whether you've been with us since the beginning or are just starting out, I'd like to extend a wholehearted THANK YOU from all of us at Bonanza HQ.
14th Annual Membership Sale
Save big on a membership PLUS increase your sales!
Save an additional 25% off annual Gold, Platinum, and Titan membership subscriptions, now through June 26th.
Sign up now to save on membership-only features designed for professional sellers like you. Don't miss this opportunity for huge savings on a membership that will benefit your business all year long.
Access to live support chat (Gold, Platinum, Titan)
Apply discounts as visible markdowns (Gold, Platinum, Titan)
Appear in sponsored listing results when buyers search for keywords mentioned in your listing title or description (Gold, Platinum, Titan)
More insight with advanced item stats (Gold, Platinum, Titan)
Attract up to 300% more shoppers with TurboTraffic (Gold, Platinum, Titan)
Personalized consultations with our merchant account manager (Titan)
More advertising channels with no additional commission (Titan) 
Membership checklist
Bonanza memberships come with a variety of great tools and features to make selling on Bonanza a breeze. But you might not be aware of the exact features you have access to, or how to use them to your benefit. That's where your personalized account membership checklist comes in. The checklist spotlights different actions you can take to make the most out of your membership, and automatically checks them off upon completion.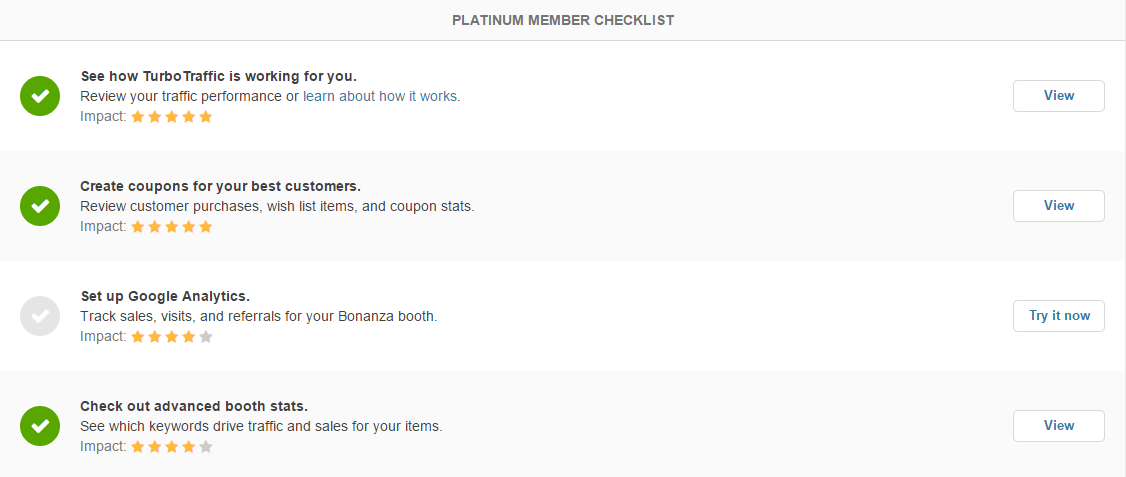 Is there anything more satisfying than checking items off a list? We love doing this so much that we've created Amplenote, a ground-breaking app for todo lists, note-taking, and more. When you visit Bonanza, you'll see the link at the top left of the page, called "Get More Done" After you've checked off your membership benefits on Bonanza, you can start getting things done with Amplenote.
When you visit the memberships page and click the "View Benefits" button for your membership level, you can see the details of your membership plan, as well as the membership checklist. 
Which membership is best for my business?
The Gold Membership is ideal for smaller sellers. It includes a few days of TurboTraffic, which is a great way to test how the advertising boost is working in your booth (you may want to buy more)! Here are some of the other benefits:
The Platinum Membership is great for all types of sellers and gives you even more TurboTraffic! Here are some benefits in addition to all of those included in the Gold Membership above:
The Titan Membership will work well for those of you that have a bigger business, especially with some popular items that could just use a bit more exposure. The expanded advertising program ensures optimal advertising for your listings.
25% off
The sale price is valid for:
New Sellers
Sellers that want to upgrade their membership level
Sellers renewing their current membership.
You can click on the green button below to go to the sign-up page, or you can see the process of signing up in our video tutorial.