Stripe will soon be available to all
A leopard might not be able to change its spots, but soon we'll be changing our stripes. You asked and we listened — we're offering Stripe as a payment processor to all sellers! This has been long requested by our community, and we are excited to make this dream a reality.
Initially, we launched Stripe to paying members only. This was to ensure that the Stripe's technology worked seamlessly with Bonanza's technology and minimize the number of sellers affected by bugs or kinks. Additionally, Bonanza absorbs the integration costs of each seller, so we wanted to be sure that Stripe was truly an added benefit to sellers.
When will this change go into effect?
We plan on launching Stripe to all by the end of September. Be on the lookout for more information about the official launch date — rest assured, we'll let all sellers know once Stripe is officially available to all. We thank you for your patience as we work hard to integrate Stripe for all sellers.
How much will this cost me?
There are no additional fees from Bonanza, aside from the final value fees you're familiar with, which will be billed as usual — nothing about the Bonanza billing process will change. Stripe charges an initial fee of 2.9% + $0.30 per transaction, similar to what you pay on PayPal. Depending on volume, that rate may be negotiable over time, so we encourage you to reach out to Stripe's support team to discuss your options.
When you receive your first Stripe payment, there will be about a 7-day verification window while they confirm your bank details before payout. For subsequent payments, US sellers will be paid out on a rolling 2-day schedule, so you'll never be waiting long for those funds to arrive to your bank. International payout schedules vary by country, so we recommend reviewing their documentation to confirm the schedule for your region.
In the event you need to issue a refund or manage a dispute, you can do that directly from Stripe's dashboard. Here are a couple more resources in this area:
Who is eligible for Stripe?
Stripe is available to sellers based in over 20 countries, and can process payments from a variety of payment methods like Visa, Mastercard, American Express, and more. Buyers can pay with any supported currency, and Stripe will convert the funds to your currency. You can review supported regions or sign up to be notified when your country is available.
How can I get started?
Once Stripe is launched to all, you can create a Stripe account by visiting your Payments & Purchases settings. If you're already using Stripe on other platforms, even better — you can connect your existing account and manage payments from Bonanza sales directly on Stripe. New sellers joining Bonanza will be able to opt in during the booth activation process.
Once your account has been connected and verified by Stripe, you'll be all set to accept payments. Buyers will be presented with a Stripe option during the checkout flow, and funds will be distributed directly to your Stripe account. You'll also receive an email notification when a payment is received.
A note on payment processing fees
As many of you know, eBay is developing their own internal payment processor to replace PayPal. Although their Managed Payments service won't be mandatory for all sellers until 2021, eBay recently announced that sellers will now incur a per-listing transaction fee beginning October 1, 2019. According to eCommerceBytes, an eBay social media moderator explained this as such:
"If two items are purchased from you for a single listing, one payment listing fee is charged of $0.25. If two items are purchased from you from different listings, two payment listing fees are charged of $0.25."
You can learn more about this announcement in this eCommerceBytes article. Many of our sellers on Bonanza are multi-channel sellers who also have eBay storefronts. We wanted to reassure the Bonanza community that our fee structure will remain unchanged. Bonanza will continue to offer free listings with no additional payment processing fees. We'll be sharing a blog later this week that outlines the structure of our Advertising commission fees. For now, here's a note from Bill about our fees:
"Our strategy has always been about giving sellers choice. Originally, we just gave sellers the choice to diversify, so they needn't rely on eBay alone. Later, we built stuff like the Broadcaster. It lets sellers have a choice over what channels their products list on, even what fees they pay! So the change to open Stripe really makes perfect sense for us strategically. Introducing a free and optional choice that lets sellers directly accept payments is the epitome of what we hope Bonanza represents to its sellers."
Using the eBay Importer
As a company, we are proponents of business diversification — it's why we partner with companies that make having a multi-platform online presence easier. If you're new to the blog, you might not be familiar with our eBay Importer. This tool automatically grabs your active listings from eBay and publishes them on Bonanza as well. This is a risk-free way to try selling on Bonanza.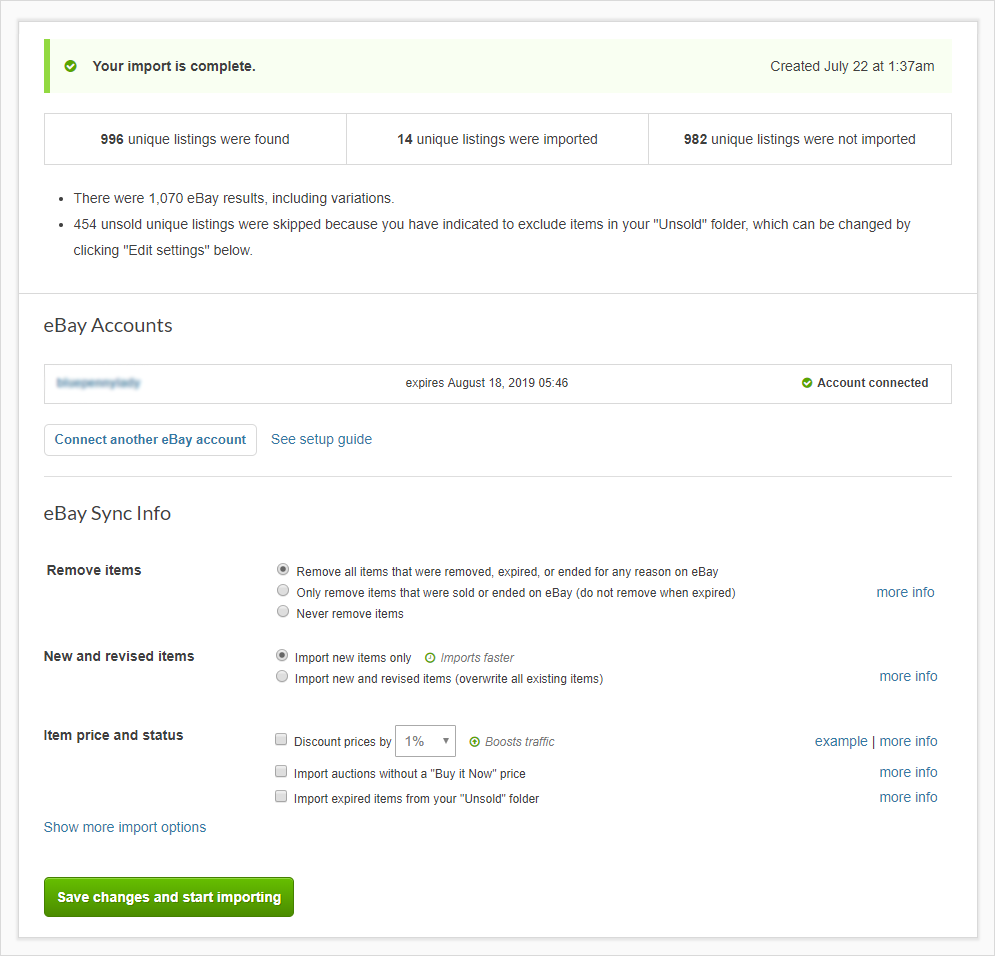 Start the countdown
We can't thank you enough for your patience over the past several months as we tested our new Stripe integration — and for your continued patience as we roll this integration out sitewide. Be on the lookout for more information as our full site launch date draws closer. In the meantime, happy selling!