Since the beginning of time (or at least 2008) we've been sweating the small stuff so that you don't have to. But when you go the extra mile to drive traffic to your business, we think it deserves recognition. Unfortunately, we can't track each of you down individually for a hearty pat on the back, but that got us thinking: is there another way we can acknowledge these above-and-beyond efforts?
The answer is yes: commission-free sales. We want to make sure you have the tools you need to succeed on Bonanza, and we feel that sharing information about how to make commission-free sales can help with that.
There are three ways to receive commission-free traffic:
Use a website as a free traffic source
Use your free referral link in your own marketing efforts
Create a customer marketing coupon
Commission-free means that when you make a sale as a result of the above efforts, you won't pay any final value fees. These sales include any sales made to buyers whose last arrival to Bonanza came via one of these three methods.
Why do we look at the last arrival to Bonanza?
Our birthday wish is to become clairvoyant, but until that happens, it can be incredibly difficult to determine a buyer's first ever entry point to Bonanza. In order to better predict the cause of a sale, we look at how the buyer arrived to the site during the same session in which they made the purchase.
With that, let's take a closer look at these referral methods.
1. Driving traffic from a website
One way to make a commission-free sale is by designating a website to drive traffic from. This can be pretty much any website that's not one of our Broadcaster partners (like Google or Bing). When a buyer makes a purchase in your booth as a result of the website you linked to, you will not pay any final value fees.
To designate a website, visit your referral page.

2. Using your referral link
Each seller has their own unique referral ID. You can use this referral code whenever you're sharing a link to your booth or item listings — simply add your referral ID to the end of the URL. Here's a breakdown of a URL with a referral ID:

Example 1
Jenny, owner of Carpet Diem, sells unique rugs and textiles. Her friend Lisa wants to order a doormat, so Jenny sends her a link to her booth that includes her referral code.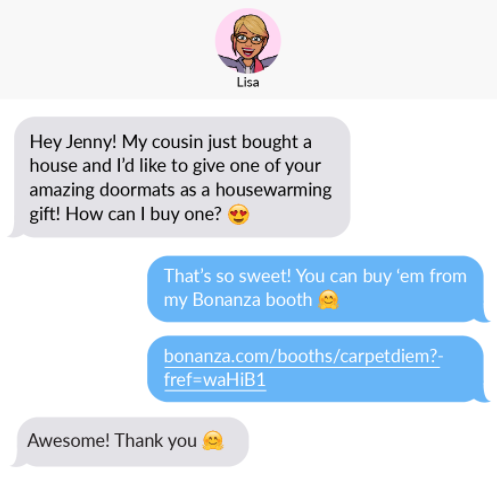 Example 2
Gina is offering a discount on all items from her new booth category. She tweets the news using her referral link in the tweet. Any purchases from buyers that came to the site from that link will be commission-free.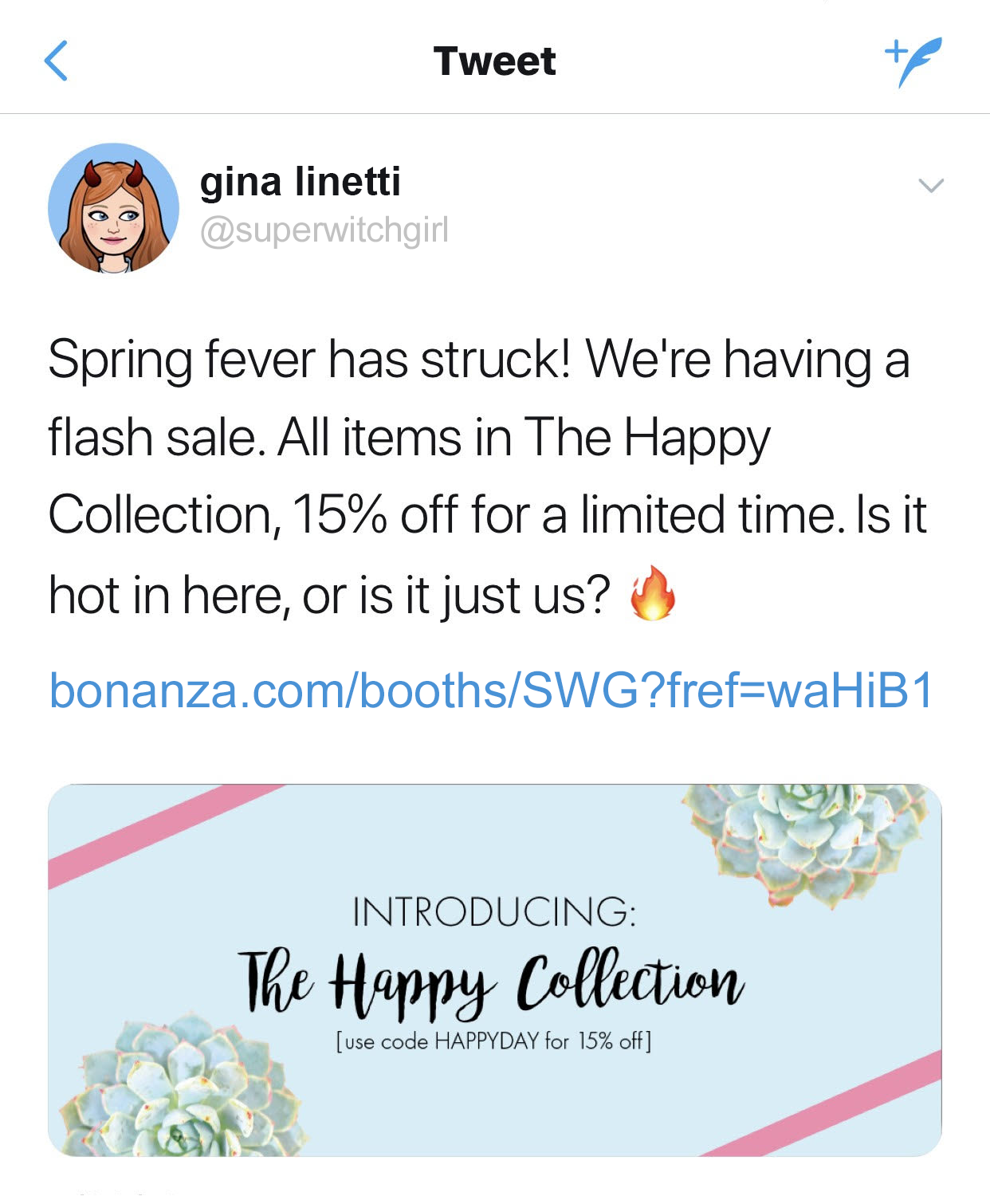 3. Using the Customer Marketing Tool
At Bonanza, a one-time customer has a 30% chance of returning to your store and making a purchase for a second time, so imagine the possibilities with commission-free customer marketing coupons. Whether you create a campaign from scratch or use one of our pre-made templates, any sales that are a result of a customer marketing campaign will be free of FVFs.
Here are some ideas for campaigns through the Customer Marketing Tool:
Turn their frown upside-down. Offer a coupon to buyers who have left negative feedback — it could turn their experience around.
Give them meatballs for their spaghetti. Offer discounts on specific items to buyers who have bought similar items in the past.
Say "thank you for being a friend." Design and create your own loyalty program for your repeat customers by offering coupons to your frequent buyers.
You can learn all about creating these campaigns here.
Other sources of traffic
If buyers are coming to your booth as a combination of your efforts and our efforts (like through search engine results) those sales will be charged our base 3.5% FVF rate.
If Bonanza is spending money to target buyers, your Broadcaster rate allows us to maximize the number of buyers you receive. These traffic sources include:
Traffic from the advertising platforms you've opted into via the Broadcaster
Shoppers visiting Bonanza directly due to Bonanza's advertising efforts
Sites that are part of our affiliate network (e.g. Ebates)
Emails sent by Bonanza on behalf of sellers (e.g. dropped cart emails)
Here are a few example scenarios of our FVF structure:
A buyer sees an ad you created on Facebook, clicks through to the site, and makes a purchase from your booth. This sale is commission-free.
A buyer uses a website like Google or Bing to search for an item. They visit Bonanza from that search and make a purchase from your booth. This sale is subject to our base 3.5% fee.
A buyer sees an advertisement paid for by Bonanza, clicks through to the site, and eventually make a purchase from your booth. This sale is subject to your Broadcaster commission level.
More ways to grow your business
Sellers who take advantage of these commission-free sales methods are growing their revenue, increasing their repeat buyer percentage, and improving their online businesses as a whole. Interested in more tips on selling online? Check out our Seller Success center.
Do you have a question unrelated to this post? Contact support or visit the Help Center.