Natural Injection Lip Plumping Gloss Extreme and similar items
NATURAL INJECTION LIP PLUMPING GLOSS EXTREME REBUILDING LIP PLUMPER THAT WORKS
View full item details »
Shipping options
Estimated to arrive by Tue, Jul 30th. Details
This estimate is based on:
The seller's handling time
USPS Parcel Post (1 to 10 business days) transit time to US
Actual delivery times may vary. Have shipping questions? Contact the seller
FREE via USPS Parcel Post (1 to 10 business days) to United States
Return policy
Full refund available within 30 days
Purchase protection
Catalog info
View full item details »
Shipping options
Estimated to arrive by Tue, Jul 30th. Details
This estimate is based on:
The seller's handling time
USPS Parcel Post (1 to 10 business days) transit time to US
Actual delivery times may vary. Have shipping questions? Contact the seller
FREE via USPS Parcel Post (1 to 10 business days) to United States
Return policy
Full refund available within 30 days
Purchase protection
Catalog info
Item traits
| | |
| --- | --- |
| Category: | |
| Quantity Available: | 50 in stock |
| Condition: | New |
| Type: | Lip Repair |
| Formulation: | Serum |
| Tinted: | No |
| Skin Type: | All Skin Types |
| Gender: | Unisex |
| Country/Region of Manufacture: | United States |
Listing details
| | |
| --- | --- |
| Seller policies: | |
| Posted for sale: | More than a week ago |
| Item number: | 251978705 |
Item description
Our lips are the first sign of aging on the face- it's not our eyes! Get the plumpest lips you've ever had- naturally- with this extremely fast-working 24-hour intense lip plumper serum! WHAT IT DOES: This 100% natural serum sinks deeply into all 7 layers of the skin (only one rare ingredient can do that)! It micro-delivers beneficial nutrients into deep-tissues on a cellular level, effectively boosting the body's own collagen production from the inside! This lip rebuilding treatment promotes rapid new cell production on the inside AND outside of the lips! An added benefit of new cell production is self-exfoliating lips, much like the lips that children have- always plump, soft, and never chapped! This natural product is revolutionary, and replaces lip injections- naturally! It's even safe to use on wrinkles around the mouth- on the smile lines, chin, neck, or other lower-face areas- that have lost their natural underlying collagen! No more injections in those zones! I use it on my lower face, too! HOW FAST IT WORKS: FIRST 5 MINUTES: Gives your lips instant volume, accentuates natural color, and curve of the lips. The lip's wrinkles, and aging lip rims become smoother and filled-in. FIRST OVERNIGHT TREATMENT: It works best while you're sleeping- using your body's "repair" time. Wake up to lips that are super-smooth! You'll effortlessly lose a sheet of dulling rough dead skin, the lip's wrinkles 70% filled-in, and the lips become a rosy, tightened, more pronounced feature on your face! The body responds overnight to this all-natural lip plumping treatment! WITH NIGHTLY USE: The features you awoke with on the first morning will become the actual traits of your lips in the daytime after the first 3 nightly treatments, and it just gets better with each day! You will recognize your lips as a restoration of the fullest lips you naturally used to have, with super-shallow creases at the center of your lips! This lip plumper creates a permanent change- deep within the cellular structure of the lips! It intensely aids the body in restoring youthful collagen- to the max! WITH NIGHTLY DAYTIME USE: You can even use this during the daytime to boost fullness! *Detailed directions come with your package. MY PRODUCT VS. OTHERS: 1. NON-COMEDOGENIC. This product won't clog your pores. I cannot say the same for other plumping glosses I've tried! 2. NOT STICKY. This product doesn't go on thick, or feel like stickiness when your lips touch. It's not hard to remove. It's like butter! 3. AFFECTS LIPS. The lips actually change. This is not some temporary affect that goes away after 1-2 hours like many lip plumpers and devices/tools. This rebuilds the lip's natural collagen stores, and gives the actual bare lips a complete revamp make-over! 4. NO GLITTER. Some people get irritated skin, or clogged pores from glitter/shimmer lipglosses. This has niether! 5. EXFOLIATES. Includes a super-gentle acid that exfoliates the lips for you, so you don't need to do a weekly scrub for your lips anymore! No dead skin will hang onto your lips- ever! Have flawless bare lips, without chapstick/gloss! Other lip plumpers won't exfoliate the lips like my amazing All-in-1 product! 6. CLEAR. There's no color when this is applied to your lips. You can guage when it's improving your natural lip color! This can be used as a pre-lipstick primer, and won't compete with the color of lipstick/gloss applied over it! 7. NO INJECTIONS. This is safer than lip injections! I used to get lip injections myself, because my lip area was aging, and it distressed me! I can testify that this lip plumper product has spared me the needle, and I even use it on my smile lines! I'm sorry that I had not discovered this concoction sooner than I did! If you knew what was inside those injections, you'd be running to this natural alternative! Here it is! The only one of it's kind! 8. NO BURN. Many natural and non-natural lip plumpers add essential oils- like cinnamon, wintergreen, or peppermint. Any essential oil in high concentrations can cause an allergic reaction of rash, unattractively inflamed red skin beyond the lip region, uneven lip puffiness, scaling and peeling, white pale burned patches, chapping, or uncomfortable prolonged intense stinging. Essential oils should be avoided by pregnant women and sometimes children. I tested those acclaimed essential oils on my lips and found no noticable plumping effect, but I did get redness crawling unevenly beyond my lips, and prolonged stinging. I chose to not include essential oils after they all failed my "plumping tests". By the way, my product is safe for all people! 9. MOISTURIZES. After using this product as a night-only treatment for 2 days, I realized I no longer needed chapstick on my bare lips during the daytime! No need to carry chapstick anymore! This saves you money on moisturizing products, and is great for anyone with chronic chapped lips! Fully moisturizes- do other lip plumpers that coat your lips- deeply moisturize into the next day? 10. NO FRAGRANCE. No artificial fragrances are added to this (perfume alcohols actually create chapping/drying of lips, too). This mild natural fragrance has a lovely slight butter smell. Great for those allergic to, or irritated by artificial perfumes! WARNING: Not for use around eyes. I offer an amazingly fast-working natural anti-wrinkle product specially formulated for treating puffy eye bags, crow's feet, and wrinkled eyelids! *This product is in these 3 DISCOUNTED NATURAL KITS (kits are a generous 25% savings): -Natural Skin Care Kit Anti Aging For Wrinkles Anti Wrinkle Complete Set of 6 -Beautiful Without Makeup Natural Skin Care Kit For Facial Features Enhancement Basic Set of 7 -Deluxe Beautiful Without Makeup Natural Grooming Kit For Facial Features Enhancement Set of 10 DOING BUSINESS WITH ME: 1. My home-made, highly controlled small-batch, potent-quality, finest-ingredients products come from my house- to yours! I am the inventor. The person selling it- is the person making it- is the person shipping it- is the person in the "Before After" photographs (or my family)! No other products do what my personal service provides. 2. Customers can come back to THIS "manufacturer" to give their personal thanks, testimonials, feedback, and recommendations! My customers can also change people's lives- by personally referring them to these products, posting their "Before and After" photos, blogging, or creating video reviews! I encourage you to spread the word about my revolutionary "must-have" treatments! 2. My written testimonial, and must-see "Before and After" photos (when applicable)- are a one-of-a-kind endorsement about these stunning healing protocols within my products! You'll want to add your testimonial pics, too! 3. Make sure to look at all my various 100% natural hair growth products (with "Before After" photos of me)! I'm even coming out with skin treatments that are fast-working for emergency infections (this is one)! 4. When you buy from me, you're supporting "the little guy" and a family! This is a female-owned small business. I'm an American, and I buy my supplies within the USA only. I buy Organic whenever possible. You can trust me from the quality, results, and faithful purity standards of my products. I use them, too! 5. There are low-quality imitations of these ingredients out there that you wouldn't even know to avoid! I've found the finest brands for them all, and I pay top-dollar for Organic ingredients! Remember, I made these products for myself first! I have already paid for these products for myself- repeatedly! PAYMENT: I accept Paypal, but you can pay by card (even without a Paypal account) by doing these steps. WRITE THIS DOWN FOR YOURSELF: 1. Proceed to Checkout, as usual. 2. Click "Pay with Paypal". Continue. 3. Lower right of the screen says "Don't have a Paypal account?" (underlined, text is bold and dark blue). Click that. 4. Lower right says "Pay with a debit or credit card" (text is bold and dark blue). Underneath, you have two tabs- one says "Debit or Prepaid Gift Card" and the other tab says "Credit Card". Select the proper tab, and fill in the card information. 5. Scroll down until you see "Pay" (yellow button). Click it. That's it! You will get an e-mail from Paypal documenting the transaction! *Prices subject to change with inflation (so stock up now)! SHARE WITH FRIENDS: Know someone else with sagging/wrinkled mouth area issues? Share this page! Bookmark this page for yourself! These problems can make us feel miserable, distressed, panicked, desperate, and hopeless. But, my products give not only hope- but restore health and banish despair! Please send this page to someone who needs it... A man has joy in an apt answer, and how delightful is a timely word!- Holy Bible, Proverbs 15:23 This natural product's statements and this product have not been evaluated by the FDA (Food and Drug Administration). Detailed directions included with package. BOTTLE SIZE: 1/4oz, or 7.5ml. Clear BPA-free plastic vial with shiny silver screw-on cap. The wand within ends with a small, fuzzy, pointed-tip applicator. INGREDIENTS: AEA Certified Odorless Grade A Fully Refined 100% Pure Emu Oil, Alchemilla Vulgaris Glycerin Tincture, Zingiber Officinale Glycerin Tincture, Capsicum Minimum Glycerin Tincture, Highest Concentrate Lactic Acid 85%. KEYWORDS: Lip plumper, lip injections, lip injection lip gloss, lip plumper that works, lip plumper products, lip plumper lip gloss, lip plumping before and after, lip plumping gloss, lip plumping diy, lip injection extreme, lip injection, lip plumper, lip plumper enhancer, lip plumper clear, lip plumping lip gloss. **************** SEE MORE "BEFORE AFTER" PICS MY NATURAL BEAUTY PRODUCTS AT: http://www.bonanza.com/booths/devotedthings
This item has been added to your cart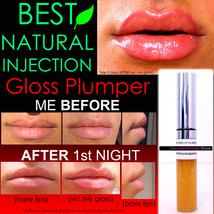 NATURAL INJECTION LIP PLUMPING GLOSS EXTREME REBUILDING LIP PLUMPER THAT WORKS
added to cart.
50 available in stock
View Cart
or
continue shopping
.

Please wait while we finish adding this item to your cart.
Get an item reminder
We'll email you a link to your item now and follow up with a single reminder (if you'd like one). That's it! No spam, no hassle.