The Mysterious Pilot, 15 Chapter Serial, 1937 and 26 similar items
THE MYSTERIOUS PILOT, 15 CHAPTER SERIAL, 1937
View full item details »
Shipping options
Ships from United Kingdom

Return policy
Purchase protection
Payment options
PayPal, MasterCard, Visa, Discover, and American Express accepted
View full item details »
Shipping options
Ships from United Kingdom

Return policy
Purchase protection
Payment options
PayPal, MasterCard, Visa, Discover, and American Express accepted
Item traits
| | |
| --- | --- |
| Category: | |
| Quantity Available: | Only one in stock, order soon |
| Condition: | Used |
Listing details
| | |
| --- | --- |
| Seller policies: | |
| Posted for sale: | More than a week ago |
| Item number: | 3874851 |
Item description
THE MYSTERIOUS PILOT 15 CHAPTER SERIAL 1937 The lead was played by famous American aviator Frank Hawks, billed above the title and all the posters as Captain Frank Hawks. In June 1933, he had flown non-stop across the USA in 13 and a half hours, four hours faster than the previous record, which he also held. While acknowledged as one of the best flyers around, he was also something of a daredevil and risk-taker. He was killed a few months after the completion of this serial while flying a non-commercial aircraft. The source novel for this serial was a book about Hawks by William Byron Mallory called "The Silver Hawk" (the name of Hawk's airplane). PLOT: While travelling on a train through the Canadian wilds, Jean McNain overhears a conversation in the next compartment where James Crawford accuses Carter Snowden, her "host" and potential fiance of murder. Snowden prompty dispatches Crawford. More than a little alarmed, Jean slips off the train at Titan Pass where she encounters Jim Dorn, a map maker for the Royal Canadian Air Force. With his friends, RCMP Sergeant "Kansas" Eby and Indian Luke, Jim shields Jean from the villainous Snowden and his minions through the rest of the serial. CAST: Frank Hawks ... RCAF Capt. Jim Down Dorothy Sebastian ... Jean McNain Esther Ralston ... Vivian McNain [Chs.10-11] Rex Lease ... RCAF Sergeant 'Kansas' Eby Guy Bates Post ... 'Papa' Bergelot [Chs.1-4,6-8,15] Kenneth Harlan ... Carter Snowden Yakima Canutt ... Indian Luke [Chs.1-2,4-8,15] George Rosener ... Fritz [Chs.3-5,9,14-15] Clara Kimball Young ... Martha, Fritz's Wife [Chs.3-5,9,14-15] Frank Lackteen ... Henchman Yoroslaff Harry Harvey ... Henchman James 'Soft Shoe' Cardigan Tom London ... Henchman Kilgour [Chs.1,3-4,6-9] Robert Walker ... Henchman-Lumberjack Boyer, in dark hat [Chs.10-14] Ted Adams ... Henchman Carlson [Chs.1,3-5,7,10-11,14-15] CHAPTERS: 1. The Howl of the Wolf 2. The Web Tangles 3. Enemies of the Air 4. In the Hands of the Law 5. The Crack-up 6. The Dark Hour 7. Wings of Destiny 8. Battle in the Sky 9. The Great Flight 10. Whirlpool of Death 11. The Haunted Mill 12. The Lost Trail 13. The Net Tightens 14. Vengeance Rides the Airways 15. Retribution RUNNING TIME: 300 min (15 episodes) Overseas items (eg to USA) are sent by ROYAL MAIL AIRMAIL. ROYAL MAIL do not do tracking for airmail items unless you pay considerably more for insurance for the privilege – as anything posted overseas (eg, to the USA) is not under their control. This is usually prohibitively expensive, but if you would like your item insured please contact me first. Items are usually sent the day after you pay, or perhaps the same day depending on the time difference, and delivery normally takes about two weeks (10 days usually, but sometimes longer). During busy periods (Christmas especially) it can take around three weeks. This applies to postage to USA, CANADA, AUSTRALIA, and to a limited extent, also to Europe. PLEASE NOTE I AM A UK SELLER POSTAGE TAKES LONGER (a couple of weeks, not a couple of days).
This item has been added to your cart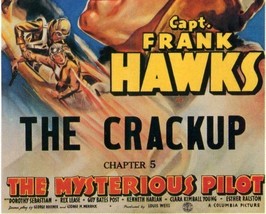 THE MYSTERIOUS PILOT, 15 CHAPTER SERIAL, 1937
added to cart.
Only one available in stock
View Cart
or
continue shopping
.

Please wait while we finish adding this item to your cart.


Get an item reminder
We'll email you a link to your item now and follow up with a single reminder (if you'd like one). That's it! No spam, no hassle.