Item details
Country/Region of Manufacture
United States
Brand
John Anthony Miller Studio
This item has been added to your cart
Ernest Hemingway A FAREWELL TO ARMS facsimile dust jacket for the first American
added to cart.
4 available in stock
View Cart
or
continue shopping
.

Please wait while we finish adding this item to your cart.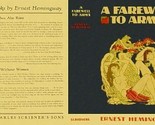 Add to cart
4 in stock
Ships within 4 days. Estimated delivery: Friday, November 3rd
Returns/refunds accepted
Do you have any questions for the seller?
More about this item
A Farewell To Arms Facsimile Dust Jacket for Ernest Hemingway's novel. No book is included. This listing is for the facsimile dust jacket for A FAREWELL TO ARMS by Ernest Hemingway...for the first edition by Scribners Co as well as the very early printings by Scribners Co. Digitally scanned and restored by fine artist John Anthony Miller and has been trimmed, enclosed in a Mylar jacket protector. It has been printed with pigment archival inks on 120GSM paper. With proper care they will last for at least 90 years or more. At the bottom of the rear jacket flap there is the artist's monogram "JAM" and the words "Facsimile Dust Jacket" tastefully printed, as shown. My later dust jacket work will have "John Anthony Miller Studio" on them. Again, tastefully stated. Please see the thumbnail photograph of the dust jacket, which will not be as sharp as the actual product. Additionally, this dust jacket has my signed signature in pencil on the VERSO of the jacket, stating that it is a facsimile dust jacket and signed by John Anthony Miller. This will make the dust jacket facsimile more collectible in my opinion as some people are collecting my dust jacket work to frame and it will stand on its own merit. If you want your facsimile dust jacket send unfolded for framing, please let me know. Also I can resize any facsimile dust jacket to fit your particular book. Let me know the dimensions (ie: height, spine thickness and measurement across the front board in 1/16ths of an inch or centimeters) J. A. Miller, at Phantom Bookshop John Anthony Miller Studio of Graphic Arts Ventura, CA 805.641.3844 (Phantom Bookshop business telephone number 24/7) A few highlight comments about the art of John Anthony Miller, producing quality fine art with an eye detail since the late 1960's: His art is in collections of The Smithsonian Institution, Chicago Art Science Industry, The Carnegie Art Museum, Chicago Art Institute, Clarke Humanities Museum at Scripps College, President Obama, The Ambassador to The People's Republic of China and other notable people around the world. "John's unique artistry was evident as soon as I saw 'The Great Gatsby' dust jacket. Having seen scores of facsimile jackets, John's work is in a completely different league. The rich tonal quality of the colors is breathtaking and the weight of the paper is carefully considered. He satisfied the needs of the most demanding client, even during a personally trying time. I look forward to doing continued business with him in the future and give him my highest recommendation." Ryan Dohm, Profiles in History, 2011 COLLEEN MOORE: "You are a such a magnificent artist!" - Colleen Moore, silent screen and motion picture star, 1982. MAURICE SENDAK: "Thank you for the lovely etchings!" - Maurice Sendak, Children's book illustrator, 1981 COMMANDER NORMAN GEARHART (USN Ret): "John's art is superb and above the rest. A great artist. Our clients are extremely happy with his work and it is destined to be collectible in the future." - President of Reminiscence in Miniature (at the time the leading company producing miniatures for dollhouses, 1981) SIFU MANUEL RODRIGUEZ: "John Anthony Miller is a gifted artist." - Master M. Rodriguez, Red Dragon Classical Guitar and Kung Fu Academy and Olympic Trainer of Martial Artists, world-class martial artist, 2010 FREDERICK GRUE: "John Anthony Miller is a true professional." - Frederick Grüe 1979, World's Premiere Still Life Painter. John Anthony Miller was a student of Grüe. JOHNNY CASH: "I like your work very much." -Johnny Cash , 1978, Legendary Country Singer Musician. WILLIAM F. NOLAN: "The unique art of John Anthony Miller is a joy to behold. His wondrous talent shines, diamond-bright, from each work...a talent to cherish." -William F. Nolan 2009, co-author of "Logan's Run" RAY BRADBURY: "(edited)...how wonderful and what a genius you are. You have an incredible talent, John, and I hope you know that...All my love, Ray." -Ray Bradbury 2010. Ray Bradbury is the author of "Fahrenheit 451"and arguably the world's most beloved author (Ray Bradbury purchased a number of John Anthony Miller's dust jackets for his own books during his lifetime). GEORGE CLAYTON JOHNSON: [telephone quotation...'when I show your work (Alice in Wonderland) to people they are blown away'...] co-authour of "Logan's Run," script writer for many Twilight Zone Episodes, Oceans Eleven, Kung Fu and many other works and scripts. Other numerous praises of the facsimile dust jacket work of John Anthony Miller can be viewed on the feedback section at eBay under phantom-bookshop-of-ventura. There are too many to list here.
Listing details
Shipping discount
Free shipping on orders over $2,500.00
Price discount
10% off w/ $500.00 spent
Posted for sale
More than a week ago