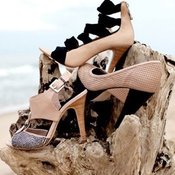 joined 05/15/10
active 03/12/15
About Me
Welcome to BobbiMac's Closet Booth
Please come back to check for more items. I am a fan of Louis Vuitton, Rebecca Minkoff, Alexander Wang and other fabulous items.
Always Authentic! <3
http://www.bonanza.com/booths/bobbimac
By the way I think its RIDICULOUS how ebay.com is making a 10% profit from shipping fees! BONANZA...
bobbimac doesn't have any items in their booth!