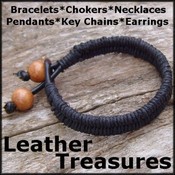 joined 09/22/10
active 01/12/14
About Me
Leather Jewelry Designs for Men and Women.
I have been making traditional jewelry by Metals N Pebbles for 10 years, and started making Leather jewelry 5 years ago. Our family has been crafting for many generations, sewing, crocheting, knitting, leather work, hook rug, too many to list.
Now, Jewelry making...
LeatherTreasures doesn't have any items in their booth!