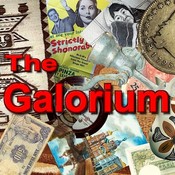 joined 05/23/14
active 08/09/21
About Me
Thanks for visiting! We are celebrating our Fifth Anniversary here at Bonanza!
Everything is on-hand and ships quickly...no "Drop Shipped" items! We sell at multiple online venues but we rarely cross-list any of our inventory to more than one venue. So, if we have it listed here, it is likely...
Galorium doesn't have any items in their booth!