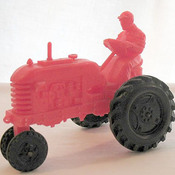 joined 01/25/11
active 02/11/15
About Me
Welcome to Chile Treasures at Bonanza!
Current news as of June 2013: I have returned to the States and reside close to Washington DC.
OLD SUMMARY:
I'm from the United States, living in Santiago, Chile. I cycle in Santiago in search of anything vintage. Then I send it off around...
collectionforall doesn't have any items in their booth!