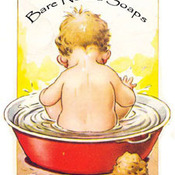 joined 05/16/11
active 07/07/13
About Me
Thank you for visiting the Bare Naked Soaps Online Store!
Bare Naked Soaps is a small soapery making cold-process soaps from scratch in Virgina. All soap is handmade in small 2-6 pound batches, poured into wood molds, cured 5-6 weeks, and then hand cut into individual bars.
Bare Naked Soaps...
BareNakedSoaps doesn't have any items in their booth!