IGIA SpinTwist-A-Braid and Spirals Beads and similar items
More details about this item
As seen on Tv brade twisting product. Braids your hair quick and easy. CREATE GROOVY, FASHIONABLE BRAIDS, FAST AND EASY WITH IGIA Spin-a-Twist Braids have been in style ever since you were a little girl! Growing up either your mother, sister or someone braided your hair. Now IGIA has made it easy! You are going to love this braiding tool and the fashionable hairstyles you can create all by yourself. Now at any age braids are in! How to make braids with the IGIA Twist-A-Braid Plus! With IGIAS new technology, we now have a built-in comb that will enable you to make 2 and 3 strand braids. Part the hair into two or three strands and comb smooth from the root to the end of the hair with the comb. Hold the smooth strands in one hand and with the tool in the other, push up with your thumb, the pole under the rotator head to release the hair fastener. To use the comb, grab the tip of the comb located in the middle of the Twist-A-Braid Plus unit. Pull out until fully extended. Once fully extended, hold unit at the bottom and begin to part and comb your hair. This will make your hair smooth so the strains will fit in place easier. Simply place the first strand through the hair fastener leaving inch free at the end. Release the pole and the hair will remain secure and in place. Now do the same with the next two strands following the same directions. With all three strands in the fastener push the button on the side UP. The three strands of hair will individually twist. By holding the braiding tool straight out with a little tension, will help make an even, tighter and straighter twist. Twist A Braid Plus will rotate and braid the three individual strands together, creating a new stylish, three strand, braid twist. IGIA Twist-A-Braid include: IGIA Spin and Twist a Braid Rubber band Beads Instructions Choose From: Spin-a-Twist manual and Twist-a-Braid Delux battery power auto twisting.
This item has been added to your cart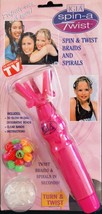 IGIA SpinTwist-A-Braid and Spirals Beads
added to cart.
12 available in stock
View Cart
or
continue shopping
.

Please wait while we finish adding this item to your cart.